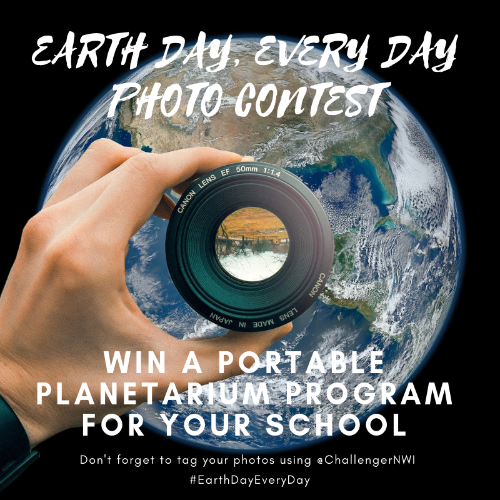 Earth Day should be every day!
Lake, Porter and LaPorte County educators are invited to share a photograph and brief description that represents how their school and/or classroom does their part to take care of our home planet - Earth!
To enter, simply "like" or "follow" one of Challenger's social media pages, upload your photo, and tag us in the picture @ChallengerNWI, and use the hashtag #EarthDayEveryDay.
  All photo entries must be submitted by Sunday, April 21st at midnight.
On Earth Day, April 22nd, we will announce the winner online for our Earth Day, Every Day Contest.
About The Prize
The winner of this contest will receive an out-of-this-world Portable Planetarium program for their school!

Portable Planetarium Program must be booked and occur before the end of May 2019

Up to 10 sessions
Portable Planetarium Requirements
Maximum capacity of Portable Planetarium = 30 children Grades K-3, 24 children Grades 4-7,  20 children Grades 8-12 per show

A teacher must be present during shows

Minimum floor space: 30 feet by 30 feet

Minimum ceiling height: 13 feet with no obstructions (light fixtures, etc)

2 grounded 120-volt standard electrical outlets

Programs scheduled during the school week
Rules & Regulations
Eligibility -The contest is open to all educators within Lake, Porter, and LaPorte Counties.
Deadline – The contest runs today through April 21, 2019. Submissions must be posted no later than April 21, 2019 to be considered
Data Protection and Publicity - By participating in the contest, you consent to your name and school name being disclosed if you win the ticket giveaway. You also grant Challenger full ownership of your image for use in advertising and promotional material related to this contest. In addition, you give Challenger the right to publish the photo in promotional materials with the understanding that there will be no fees, remuneration or any other compensation transmitted to you for this right.  You further hereby waive all rights of inspection and release the Challenger Learning Center from any and all liability arising out of such use of your name or photograph. You certify you hold all rights to the photographs listed.
Photo Criteria: 
Photographs may include shots of people, items, artwork, nature, or anything that demonstrates environmental stewardship.

Photographs should be appropriate for all age groups

Images that do not meet these requirements may or may not be included in the display or may be rejected from the contest.
Judging - Judging will be conducted by Challenger Learning Center staff.   By entering this contest, participants agree to abide by the contest rules and recognize that the decision of the judging committee is final. The quality of the photograph, relevance to the theme of the contest, and creativity/originality will all be examined in conjunction with artistic merit. 
For more information contact the Challenger office at (219) 989-3250 or at emma@clcnwi.com.