What's Going on at Challenger Learning Center of Northwest Indiana
---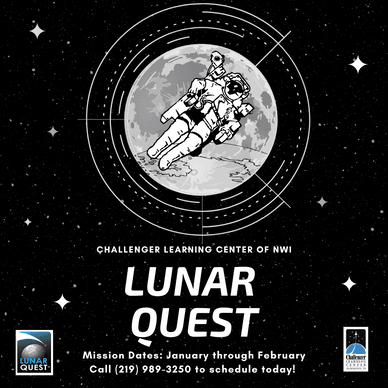 Our Brand NEW Mission - LunarQuest - is on the Horizon!
In just a few months, we will begin flying our newest Moon Mission program called LUNARQUEST!
Interested in booking your class's mission? Call (219) 989 - 3250 today!
---
Meet Riley, aka Sputnik, a Challenger Learning Center Alumni
Now a student at Embry-Riddle Aeronautical University, she shared with us how her experience at Challenger Learning Center of NWI launched her into her career path today! We wish her the best of luck following her dreams, and can't wait to see her directing Mission Control one day!
Thank you for sharing your story with us, Riley. Stories like yours inspire us to keeping doing what we do every day!
---
Check out @ChallengerNWI on Twitter!
RT @NASA_Orion: Orion's Optical Navigation Camera captured these stunning views of the lunar surface during our flyby on #Artemis flight da…
---
Come see us! Schedule your visit today by calling (219) 989-3250