In 2024, we will be celebrating Challenger Learning Center of Northwest Indiana's 25th Birthday! Help us get the party started with a donation of $25 or more on #GivingTuesday!
Over the past 25 years, nearly 330,000 individuals have walked through the doors of the Challenger Learning Center of Northwest to explore space and the worlds of science, technology, engineering, and math. For over 2 decades, our STEM driven missions, events, and school programs provide an educational outlet like no other to Indiana and the Chicagoland area, with access to one-of-a-kind experiences and tools not found within the classroom. Learners of all ages have made life-long connections with others, space, and the world around them thanks to their time here at Challenger NWI. To continue the educational mission of the original Challenger Spacecraft crew, and to propel forward to make an even greater, lasting impact for another 25 years, we need your help.
---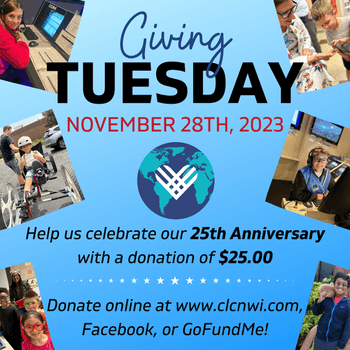 On February 1st, 1999, Challenger Learning Center of Northwest Indiana officially became the 33rd Center to open as part of a network of facilities devoted to carrying on the mission of the Challenger 51L Crew Dick Scobee, Mike Smith, Ron McNair, Judy Resnik, Greg Jarvis, Ellison Onizuka, and First Teacher in Space, Christa McAuliffe. Across nearly 2 and a half decades, Challenger NWI has been a shining gem in Indiana, providing space and STEM programs year round for every part of the community.
From seasoned scientists to the earliest learners, we have impacted science lovers in every generation, and that is all thanks to the support and donations from community members, like you, that our Center can continue to do what we do best - inspire.
Join us this #GivingTuesday, and let's get this cosmic 25th birthday started! With just a $25 donation, you'll help us keep STEM and space education opportunities accessible to learners of all ages, abilities, and backgrounds! 
Will you donate $25 as a birthday gift for the Challenger Learning Center of Northwest Indiana, and support STEM enrichment opportunities for young scientists in the community?

Ways to Give on Giving Tuesday:
Cash or check (payable to Challenger Learning Center of NWI) sent to or dropped off at 2300 173rd Street, Hammond, IN 46323
Can't donate monetarily? That's okay! Consider giving in other ways, as every bit of generosity helps! Other ways to give on Giving Tuesday include:
Sharing CLCNWI's story

Appealing to others

Donating new or lightly used items from our Wishlist
---
What Parents and Teachers have to say about Challenger NWI
What Parents and Teachers Have to Say