Your generous contribution helps to enrich a young scientist's mind, life, and future by sending them to our summer camp, where they grow, learn, and make lasting memories.
Over the past 2 years, children have been some of the most impacted by the isolation and stress of the COVID-19 pandemic.  Many students have not had the access to prime educational opportunities, and have lost out on key developmental experiences during quarantine.  Our science and exploration summer camps provide an educational outlet like no other, while fighting summer break boredom and allowing students to make life-long connections with each other, space, and the world around them! But to continue this program for over 140 students annually, we need your help.
---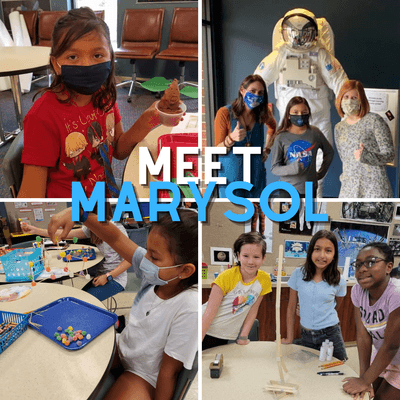 Students from across Indiana area are inspired every day by the world of science that is all around them. One such student is Marysol.  Now a fifth grader at St. Thomas More, Marysol first came to summer camp a shy and curious third grader.  With an eagerness to learn, she was given the opportunity through a summer camp scholarship to participate in the summer of 2020, and a whole new world opened up to her.
Now a strong leader and intelligent, ambitious student, Marysol dreams of pursuing a career in STEM, and hopes to even mentor younger students that are starting their journey just like her - at the Challenger Learning Center of Northwest Indiana.
Because of donations during Giving Tuesday, students like Marysol are able to participate in summer camps year after year, broadening their horizons, and opening their eyes to new and exciting experiences.  We truly believe and promote that students from all areas, backgrounds, and situations deserve access to quality education like what we provide. 
Will you consider supporting STEM enrichment opportunities for students just like her by being a 2023 summer camp scholarship sponsor?

Ways to Give on Giving Tuesday:
Cash or check (payable to Challenger Learning Center of NWI) sent to or dropped off at 2300 173rd Street, Hammond, IN 46323
Can't donate monetarily? That's okay! Consider giving in other ways, as every bit of generosity helps! Other ways to give on Giving Tuesday include:
Sharing CLCNWI's story

Appealing to others

Donating new or lightly used items from our Wishlist
---
What Parents Have to Say about CLCNWI Summer Camps
Thoughts from Summer Camp Parents