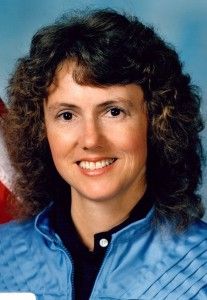 CHALLENGER'S LOST LESSONS
In 2007, the space shuttle mission STS-118 launched with Christa McAuliffe's back-up Teacher in Space candidate, Barbara Morgan. Over 20 years has passed since the loss of the Challenger's crew on January 28, 1986. That mission, had it been completed, would have brought Christa McAuliffe's six science lessons to children around the world through two live and four filmed lessons to be conducted in space. The lessons, prepared for the nation and the world's children, were never performed.
A NASA educational specialist, Bob Mayfield, wrote a narrative description of the six planned activities in the 1980s, focusing on the science and engineering performed in the conception and planning of the lessons, and describing related earth-based exercises. Mock-up planning practices of the activities and zero gravity demonstrations on video were collected with Mr. Mayfield's narratives and are now made available to help teachers understand and teach Christa's lessons. All six scripted experiments include a materials list, set up and step-by-step instructions for teachers to use in the classroom with students.
Using these activities, teachers can replicate that which Christa was not able to share from orbit. Christa's wonderful teaching gift and spirit are captured on the videos, and her remarks and actions in training accomplish most of her lessons plans. Her often quoted remark "I touch the future, I teach" is validated through the distribution of the materials by Challenger Center, the organization formed to carry on the educational mission of the crew.
Students experiencing the six lost lessons will be the future touched by Christa's teaching gift.
---