Curiosity and exploration walk hand-in-hand at our learning center!
The Challenger Learning Center of Northwest Indiana is Chicagoland's premiere Science, Technology, Engineering and Math (STEM) education facility for field trips and more. From our famous simulated space missions to hands-on workshops, labs, summer camps and planetarium experiences, we offer unique learning opportunities for children of all ages as well as STEM resources and curriculum for their teachers.  
Our flagship missions give middle-school students a glimpse into the future, as they try their hand at a day in the life of a scientist, engineer, researcher and more on a simulated space mission. With the careers in these fields at the forefront of our highly technical future, we know that experiences like these are effective in guiding future study and career choices.
Not a kid? Our corporate mission will challenge your team to use their problem solving, teamwork and communication skills to complete a fun and interactive space mission! 
There are many ways to have a Challenger Learning Center experience. Click on the photos below for more information about our different program options:
---
MISSION SPIRIT AWARD
OCTOBER 2018 WINNERS
                   CONGRATULATIONS                                         CONGRATULATIONS 
                               CIERA                                                                            JOEY 
      | 5th GRADE | BURNETT CREEK ELEMENTARY |        | 6TH GRADE | LIBERTY INTERMEDIATE |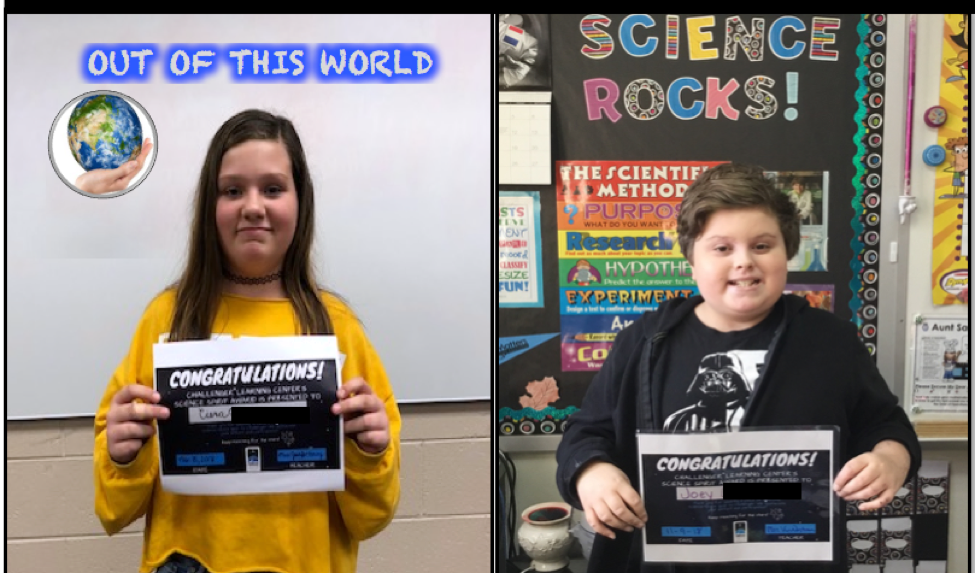 Thank you Ciera for coming to Challenger                                                         Thank you Joey for coming to Challenger wearing 
              wearing your classroom designed mission                                                         your awesome Star Wars shirt. We love the Star
          patch. It's so cool to see the students                                                                     Wars series too and all the science behind it. 
          wearing those unique space patches.                                                                          May the force be with you young Joey!