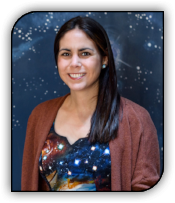 Lara Bates, Interim Director/Community Relations
Lara graduated from Indiana University in 2004 with a bachelor's degree in Public Affairs. For nearly a decade, she served as the Environmental Education and Media Specialist for Lake County's Solid Waste District. Students referred to her as "The Worm Lady" as she turned their classrooms into a compost heap of exploration. Shortly after completing her master's degree in Public Management, Lara was presented with an opportunity to work on an unprecedented project to create a Heritage Area for the Calumet region. As the Calumet Heritage Communications Specialist for The Field Museum of Natural History, she devoted two years working towards the designation of the proposed Calumet National Heritage Area, which is still under review through the National Park Service. Lara is over-the-moon to be a part of the Challenger Learning Center team and enjoys each day she gets to blast-off into a voyage of discovery with students that visit the center. When she's not in space, her favorite past times include traveling with her husband to see their favorite band Phish, spending time with family and relaxing in nature while bird watching. Although Lara doesn't have any human children at this time, she is a loving mother to her 10-year-old English Bulldog named Icculus.
---
Karen Cearing, Business Manager
Karen was born in South Chicago Heights, Illinois, but, has lived in Northwest Indiana since the 6th grade. Karen's family currently resides in Dyer, Indiana. Karen graduated from Lake Central High school in St. John, Indiana and also attended Purdue University Northwest, taking accounting classes to further her career.  The majority of her professional career has been spent working for local CPA firms where she specialized in non-for-profit and small business accounting. After spending the last two years working for the Crossroads Regional Chamber of Commerce in Merrillville, Indiana, as their Marketing Director, Karen was happy to accept the Business Manager position at Challenger Learning Center. Karen and her husband are very proud of their two beautiful daughters, one who is a teacher and one who attends Indiana University. 
---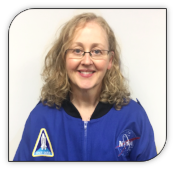 Ann Vassar, Flight Director/Crew Leader
Commander Ann graduated from Purdue University Northwest with a degree in Elementary Education. She has always had a great interest in science and strived to share that interest with her students in the classroom. She is proud to be a part of the team at the Challenger Learning Center of Northwest Indiana and loves seeing the excitement that the missions create with students. When she is not launching rockets or flying a mission, Commander Ann enjoys spending time with her husband, children, family and friends. She also enjoys walking, reading, and relaxing with a good movie.
---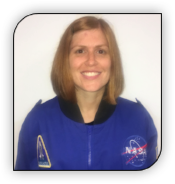 Valerie Hunter, Lead Flight Director
Valerie grew up in the Southeast Side of Chicago, and she remembers always wanting to be a teacher. She graduated from DePaul University in 2005 with a degree in Elementary Education. She spent the next 13 years in the classroom at 3 different elementary schools through the Archdiocese of Chicago Catholic Schools. She has experience with grade levels from second all the way to eighth, but mostly enjoyed the fifth graders she has taught over the years. Valerie loved trying out new ideas in the classroom and having the opportunity to impact the lives of her students. 
Valerie was interested in joining the team at the Challenger Learning Center because of the opportunity to reach students in new ways and to teach STEM in such fun and creative ways. She is very excited to embark on this new educational journey.
Outside of the Challenger Center, Valerie lives in Highland with her husband Brian. They are loving fur-parents to their dog Jake, an adorable and crazy Australian Shepherd they adopted in 2015. It is well-known how much she loves Better Than Ezra (her favorite band, who she has seen in concert over 40 times!) and the Cubs. She and Brian have so much fun just spending time with their families, whether it's getting together to watch the Cubs, attending a concert, or visiting her sister in Kentucky.
---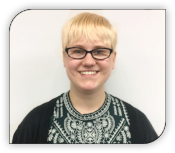 Emma Rose, Administrative Assistant
Emma is a 2018 graduate from Purdue University Northwest and works part time as an administrative assistant at the Challenger Learning Center.  She has lived in northwest Indiana her entire life and graduated from Lake Central High School in 2014.  Outside of the Challenger Center, Emma is an avid Disney fan and foodie.  She loves to go on vacations with her family and her dog, who is also named Emma!  Emma spends her time at Challenger planning summer camps, running the gift shop, and coordinating public and fundraising events.  She is extremely passionate about her job, and very happy to be a part of the CLC team!
---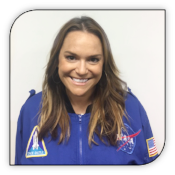 Janean Gross, Early Learning Program Coordinator/Flight Director
Janean graduated from Indiana University Northwest in 2012 with a degree in Elementary & Special Education. She worked with children on the autism spectrum from  2009-2016 conducting 1:1 ABA therapy. Growing up, one of her dreams was to be employeed somewhere that she knew her daily work was truly making a positive impact in the lives of young children. She loves what Challenger does and was espeically intrigued by the theatrical and interactive methods of engaging students in applying what they are learning in the classroom to a job-like experience. It also fascinates her how excited and proud children of all abilities become when working hands-on in an atmosphere where they are learning but also having a ton of fun! Never being a big science buff herself, she loves that Challenger is showing her how amazing and vast the subject can be. Janean loves that she is learning new things daily and feels that she has already transformed into an excited science & space enthusiast. Janean's position at Challenger will be to focus on updating & implementing new programs for early learners, refreshing our curriculum and taking the role of being a flight director to work directly with children of all ages. Outside of work, Janean has the very important role of wife and mama. Her two little girls, Brynn & Cora, are her greatest joy & she looks forward to the day they are old enough to experience all Challenger has to offer!
---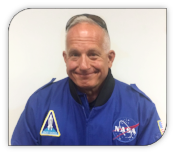 Greg Karas, Flight Director
Commander Greg earned his Bachelors from Valparaiso University in 1976 and his Masters from Indiana University in 1986. For 37 years he served as a fourth-grade teacher in Valparaiso. Through coaching, summer school, Student Council and the Kiwanis K-Kids program, he was fortunate to work with students at every grade level (K-12) during his teaching career. He has had a lifelong interest in space exploration and can vividly remember watching the televised flights of the Mercury astronauts in the basement of Elliott school in Munster when he was a student there. In the 1980s he applied for NASA's Teacher in Space program and was a semi finalist for the state of Indiana. Greg is the past president and charter member of the Sunrise Kiwanis Club of Valparaiso. He has served on the board of the United Way agency Family House for 25 years. (Family House helps children who have been victims of abuse and neglect.)
Greg's wife Liz is a Registered Nurse at Porter Regional Hospital. They have two married children named Nick and Natalie and two beautiful granddaughters named Olivia and Miriam, plus amazing twin grandsons, Benny and Lando. Greg loves to read, write, hike at the Indiana Dunes, and take long bike rides on the trails in Porter County. Commander Greg is proud and happy to guide kids at this wonderful STEM institution, because he knows it provides them with a unique and powerful learning experience.
---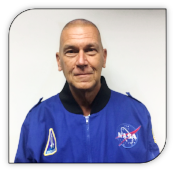 Jeff Kinkaid, Flight Director
Commander Jeff graduated from Indiana State University with a degree in business education. He continued on to earn a Masters degree from Indiana University Northwest. His career involved teaching a variety of courses at the high school level including accounting, business law, introduction to careers, marketing, and personal finance. Commander Jeff appreciates the fact that skills such as teamwork, communication, and problem solving are important in business, and he strives to incorporate these into each of his missions. Jeff enjoys working with young people and encourages them to continue their exploration of STEM courses as they continue their education. Commander Jeff is very excited to be part of the Challenger Learning Center team! He remembers the Mercury space flights and was a teenager during the Apollo missions. Consequently, he is fond of the Mission to the Moon simulation.
Retiring from education after 34 years of classroom experience, Commander Jeff enjoys spending his free time traveling with his wife Kim and visiting his daughter Lindsay and her family in Wisconsin.
---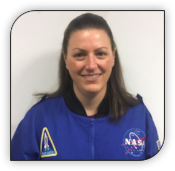 Amy George, Flight Director 
Commander Amy Graduated from Indiana University Northwest with a degree in Elementary Education.  After graduating from college, she taught in the East Chicago Public School system for eight years and in Portage Township Schools for one year.  While teaching, she continued her education and added Middle School Science and Kindergarten Endorsements to her teaching license.  During her time as a classroom teacher, she served as a Science Olympiad Coach and loved teaching her students hands-on science lessons.  Amy is currently a substitute teacher within the Portage Township and Duneland School districts. 
Amy learned about the Challenger Center while she was working on her continuing education classes.  She had the opportunity to visit the center and complete a mission with her classmates and to visit the planetarium.  This unique opportunity is when she realized that she had a passion to study space and pass the knowledge on to her students.  Amy also had the opportunity to bring her 6th grade students to the Challenger Center to participate in a moon mission and her 2nd grade students to participate in a lesson in the planetarium.  Commander Amy is thrilled to join the Challenger team as a Flight Director and is looking forward to watching the excitement of the students build as they work through the tasks of the missions.
When Amy is not teaching, or flying a mission, she enjoys camping, hiking, biking and traveling with her husband. She also enjoys scrapbooking, doing puzzles and baking during the winter months.
---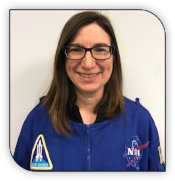 Linda Schwab, Flight Director
Commander Linda knew she wanted to be a scientist in 2nd grade, and dreamed of being an astronaut. She was profoundly impacted by the loss of the Challenger shuttle while in high school. She graduated from Purdue University with a degree in Natural Resources and Environmental Science, and began working as an environmental consultant. While on the job, she realized that mapping with satellite imagery was a fantastic research tool that combined her love of both space and Earth science, and obtained a Master's degree in Physical Geography at the University of Illinois. She has mapped and studied the landscapes of the Mojave desert and Illinois. She first learned of the Challenger Learning Center after her oldest child visited on a school field trip and came home, racing through the door shouting, "Mom, you've GOT to sign me up for summer camp! That trip was awesome!". Once she saw Challenger Learning Center, she agreed that this place was indeed awesome. Commander Linda is honored to carry on the mission of the Challenger crew and hopes to inspire students to use their own ingenuity in science and reach for the stars! When Commander Linda is not flying a mission, you might spot her at high school band concerts, on soccer field sidelines, or exploring a National Park.
---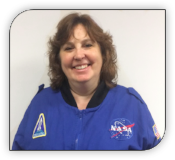 Christine Milazzo, Flight Director
Commander Chrissy graduated from Loras College with a degree in Elementary Education. After teaching everything from preschool-highschool, she was asked to become the technology coordinator/teacher in a school. She spent the last twelve years working in technology, leadership and teaching. She fell in love with the Challenger Center when she came on field trips with her students and when her own four children visited. She believes that the Challenger Learning Center embodies the future in education. Chrissy wanted to help promote the Challenger Center in any capacity she could and becoming a crew member was a great start. She looks forward to inspiring future leaders in the STEM areas (Science-Technology-Engineering-Mathmatics). When she's not at the CLC, Chrissy spends her free time working on computers, websites, reading and traveling. She works with local businesses and business groups, teaches cyber-safety and security and helps develop entrepreneurs. 
---
Julie Poremba, Flight Director
Bio coming soon!
---
Elijah Weathersby, Flight Director
Bio coming soon!
---