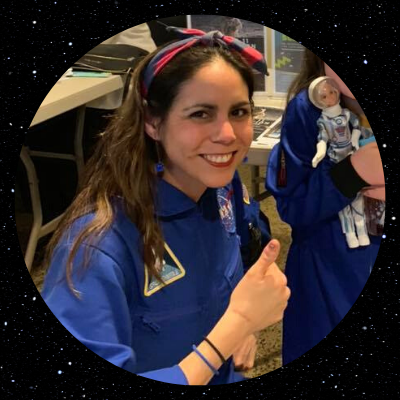 Lara Bates, Executive Director
Lara graduated from Indiana University in 2004 with a bachelor's degree in Public Affairs. For nearly a decade, she served as the Environmental Education and Media Specialist for Lake County's Solid Waste District. Students referred to her as "The Worm Lady" as she turned their classrooms into a compost heap of exploration. Shortly after completing her master's degree in Public Management, Lara was presented with an opportunity to work on an unprecedented project to create a Heritage Area for the Calumet region. As the Calumet Heritage Communications Specialist for The Field Museum of Natural History, she devoted two years working towards the designation of the proposed Calumet National Heritage Area, which is still under review through the National Park Service. Lara is over-the-moon to be a part of the Challenger Learning Center team and enjoys each day she gets to blast-off into a voyage of discovery with students that visit the center. When she's not in space, her favorite past times include traveling with her husband to see their favorite band Phish, spending time with family and relaxing in nature while bird watching. 
---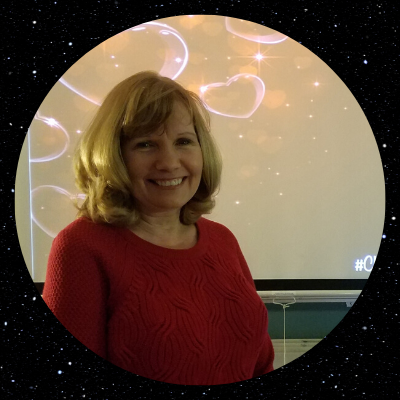 Karen Cearing, Finance Manager / Sales Coordinator
Karen was born in South Chicago Heights, Illinois, but, has lived in Northwest Indiana since the 6th grade. Karen's family currently resides in Dyer, Indiana. Karen graduated from Lake Central High school in St. John, Indiana and also attended Purdue University Northwest, taking accounting classes to further her career.  The majority of her professional career has been spent working for local CPA firms where she specialized in non-for-profit and small business accounting. After spending years working for the Crossroads Regional Chamber of Commerce in Merrillville, Indiana, as their Marketing Director, Karen was happy to accept the Business Manager position at Challenger Learning Center. Karen is very proud of their two beautiful daughters, one who is a teacher and one earned her Masters at Indiana University. 
---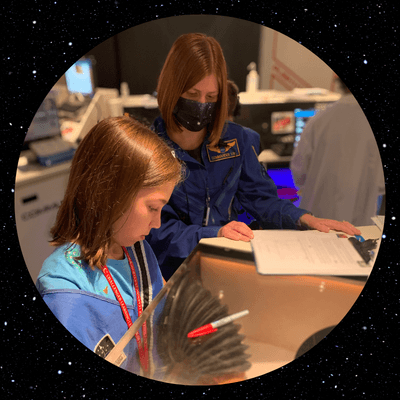 Valerie Hunter, Lead STEM Educator
Valerie grew up in the Southeast Side of Chicago, and she remembers always wanting to be a teacher. She graduated from DePaul University in 2005 with a degree in Elementary Education. She spent the next 13 years in the classroom at 3 different elementary schools through the Archdiocese of Chicago Catholic Schools. She has experience with grade levels from second all the way to eighth, but mostly enjoyed the fifth graders she has taught over the years. Valerie loved trying out new ideas in the classroom and having the opportunity to impact the lives of her students. Valerie was interested in joining the team at the Challenger Learning Center because of the opportunity to reach students in new ways and to teach STEM in such fun and creative ways.
Outside of the Challenger Center, Valerie lives in Highland with her husband Brian. They are loving fur-parents to their dog Jake, an adorable and crazy Australian Shepherd they adopted in 2015. It is well-known how much she loves Better Than Ezra (her favorite band, who she has seen in concert almost 50 times!) and the Cubs. She and Brian have so much fun just spending time with their families, whether it's getting together to watch the Cubs, attending a concert, or visiting her sister in Kentucky.
---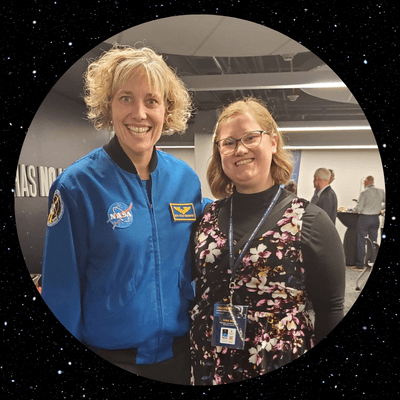 Emma Rose, Communication and Events Coordinator
Emma Rose isn't an astronomer, she doesn't come from the museum world, and before starting at Challenger, she knew very little about space. But a lot has changed in 8 1/2 years that she has worked at CLCNWI! Emma is a 2018 graduate from Purdue University Northwest with a degree in Human Development and Family Studies and minors in Psychology and Sociology. She has lived in NWI her entire life and graduated from Lake Central High School in 2014.  Outside of the Challenger Center, Emma is an avid Disney fan and foodie.  She loves to go on vacations with her family and her dog, who is also named Emma!  Emma spends her time at Challenger planning summer camps, running the gift shop, and coordinating public and fundraising events.  She is extremely passionate about her job, and as a part of the CLC team she loves showing people why space is so awesome!
---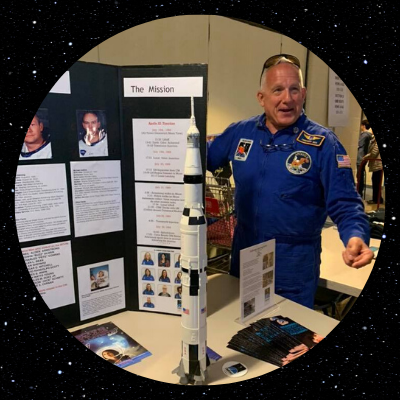 Greg Karas, STEM Educator
Commander Greg earned his Bachelors from Valparaiso University in 1976 and his Masters from Indiana University in 1986. For 37 years he served as a fourth-grade teacher in Valparaiso. Through coaching, summer school, Student Council and the Kiwanis K-Kids program, he was fortunate to work with students at every grade level (K-12) during his teaching career. He has had a lifelong interest in space exploration and can vividly remember watching the televised flights of the Mercury astronauts in the basement of Elliott school in Munster when he was a student there. In the 1980s he applied for NASA's Teacher in Space program and was a semi finalist for the state of Indiana. Greg is the past president and charter member of the Sunrise Kiwanis Club of Valparaiso. He has served on the board of the United Way agency Family House for 25 years. (Family House helps children who have been victims of abuse and neglect.)
Greg's wife Liz is a Registered Nurse at Porter Regional Hospital. They have two married children named Nick and Natalie and two beautiful granddaughters named Olivia and Miriam, plus amazing twin grandsons, Benny and Lando, and fantastic granchild #5 Isadore (aka Fizzy). Greg loves to read, write, hike at the Indiana Dunes, and take long bike rides on the trails in Porter County. Commander Greg is proud and happy to guide kids at this wonderful STEM institution, because he knows it provides them with a unique and powerful learning experience.
---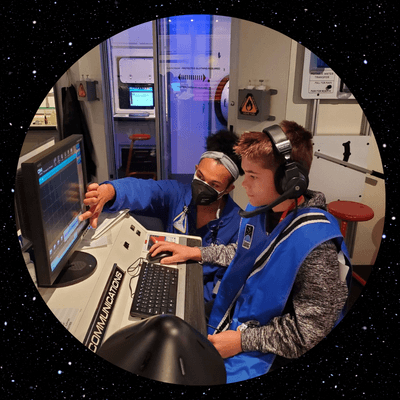 Elijah Weathersby, STEM Educator
Commander Elijah (or Eli for short) was born on an Easter Sunday in Chicago Heights, Illinois. At about the age of 7 they moved with their family to the Region, to a quaint home in Schererville, Indiana where they attended elementary, middle, and high school. During middle school, Eli had the privilege of attending the Challenger Learning Center, getting first-hand experience with the missions/programs that CLC offers. Having been influenced at a young age by their mother (a nurse in practice for as long as Eli can remember), Eli has always wanted to be in the healthcare field, but generally has appreciated all STEM related work. Post high school, Eli attended Indiana University Northwest from 2014 to 2018 and obtained a Bachelor's Degree in Chemistry with a minor in philosophy/ethics.
Through high school and college, Eli has begun to understand the impact and importance of education in all its facets, hoping that someday each child can surpass their true potential through means of their education. Eli believes that with an educated public, any and every future can become possible. They appreciate not only what the Challenger Learning Center has done for them, but also what they have done for others and what the CLC will continue to do.
Eli is youngest of three siblings (but the middle child if you include two precious dogs) and is a self-acclaimed "baba" to two wonderful nieces. Outside of STEM related work and activities, Eli loves to bust a move and dance, appreciates a challenging sewing project, and loves cosplaying their favorite video game characters.
---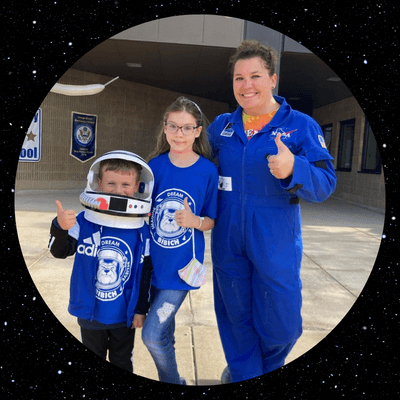 Kate McMahon, STEM Educator
Kate grew up-and currently lives-in Dyer.  After graduating from Lake Central in 2000, she attended Purdue University in West Lafayette, earning a Bachelor of Science degree in Biology, pretty convinced that teaching wasn't her thing.  She was wrong.  She began coaching/teaching athletics to 2-12 year olds all over the Chicagoland area when lab work wasn't as fulfilling as she dreamed, and rest was history.  She was promoted to Head of Preschool Programming for the company she coached through and found a passion for developing and teaching lesson plans that blended athletics and education for her students.  She strived to not only inspire them to stay active, but also to fall in love with learning. 

Kate loves music as much as she loves Science!  She sang in school choirs and rang hand bells at Kahler MS, LCHS, and at Purdue, is self-taught in piano, and currently sings with the NWI Symphony Orchestra Chorus. Her husband Ryan is also a musician/IT specialist-so there's a lot of music and science love in her house.  Besides music, she loves Purdue football, hiking/exploring in nature with her young son Finnegan and dog Ciri, hanging out in the bleachers at whatever White Sox park is called this year, crocheting, veggie gardening, being lazy in a hammock with her little family, and enjoying the loud chaos that is her large extended family.
---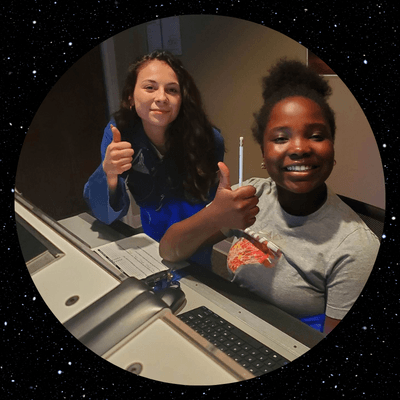 Mya Bell, STEM Educator
Mya Bell is a junior at Purdue University Northwest majoring in Human Development and Family Studies and Political Science with minors in Social Services, Youth Services, and Sociology. She grew up between Sauk Village, Illinois, and Schererville, Indiana, and graduated from Lake Central High School in 2020. Mya found her love for working with her children through numerous volunteer opportunities in high school and decided she wanted to turn her passion into a career someday! Working on the Honors Student Advisory Board at the University, Mya was offered the opportunity to volunteer at Challenger. She thought it would be a lot of fun and remembered the two field trips she had taken to Challenger in her younger years. Mya spent the 2022 summer at the Challenger Learning Center and fell in love working with the different children and awesome staff. The opportunities she had to execute and even help plan STEM activities inspired her to apply at the center and continue her work. Outside of Challenger, you can find Mya attending a concert, doing community service work, running a student organization at school, or going on a hike. She adores her friends and family, especially her twin siblings that are in the first grade.  Her favorite color is pink and her favorite animal is a cat! 
---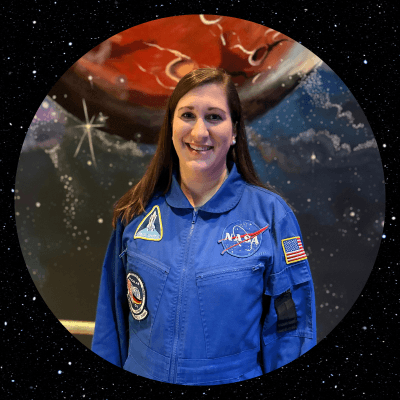 Marie Gootee, STEM Educator