It is through the generosity of these individuals, families, businesses and organizations that the Challenger Learning Center of NWI has been able to inspire and engage over 303,000 students.  The Challenger Learning Center of NWI Staff and Board of Directors is truly grateful for all gifts – no matter the size or quantity. Every gift makes a difference in how we develop and facilitate programs that are designed to engage and inspire the students who will engineer and build a strong, viable future for our country.
Stellar Club ($50,001 or more)
– Web Cornwell
– Congressman Peter J. Visclosky
– Hammond Optimist Club
– Portage Township Schools

– State Representative Dan Stevenson

– State Representative Tim Fesko

– Build Indiana Funds (State of Indiana)

– Whiteco Industries Inc.

– BP Amoco

– City of Hammond and Hammond City Council
– Highland Schools

– John W. Anderson Foundation
– Northern Indiana Public Service Company (NIPSCO)
– Lilly Endowment Inc.
- Legacy Foundation (Transforming Lake County)

- Merrillville Community Schools

– Dean and Barbara White Foundation
– ArcelorMittal

---
Endeavor ($10,001- $50,000)
– The Post Tribune 
– NWI Times 
– Hobart Schools
– City of Crown Point 
– Crown Point School Corporation 
– Citizens Financial Services
– FSB
– Griffith Schools 
– Mercantile National Bank
– Crown Point Community Foundation
– Pinnacle Bank 
– The Discovery Alliance 
– Lake County Convention and Visitor's Bureau 
– Chris and Dede Morrow Foundation
– Praxair Foundation 
– AT&T Foundation
– NECA-IBEW 697
---
Challenger ($1,001- $10,000)
– Community Foundation of Northwest Indiana

– Indiana Space Grant Consortium

– Lake County School-to-Work Partnership

– Kenneth and Marjorie Mills

www.catholicforester.org/">– Catholic Order of Foresters

– Michigan City

– Enrichment Corporation

– Crown Point Chamber of Commerce

– Crown Point

– Kiwanis Club

– Lake Station Schools

– Crown Point Rotary Club

– Munster Rotary Club

– Richard and Bette Oesterle

– St. Anthonys Medical Center

– Sand Ridge Bank

– Phyllis Ross Jeff Oesterle

– Security Federal Bank

– NBD Bank

– Bank Calumet

– Ms. Linda J. McClaughry-Erwin

– First National Bank of Chicago

www.wendys.com">– Wendy's Restaurant

– Chris Morrow

– St. Marys School-Griffith

– Tim and Frankie Fesko Van-Til Foundation

– U.S.Steel/Gary Works City of Gary – Mayor Scott King

– Purdue University Calumet

www.firstmidwest.com">– USA First Midwest Bank

– Don and Margo Powers
-IBEW/NECA Merrillville
---
Apollo ($501- $1,000)
– BP Amoco Foundation
– MBC Office Products Inc.
– Highland Rotary Club
– Sign-A-Rama
– Philippines Professionals Association
– Southlake Net Inc.
– Legacy Foundation
– Ed Radigan Family
– Mary Austgen Bank
– One State Line Energy
– L.L.C.
– Hammond Urban Enterprise
– Gamma Nu Chapter of Kappa Kappa Kappa
– Purdue Research Foundation
– Bill Wellman
– The Gintert Family
– Jennifer Vavrek
– Marty Wielgos
– Speros Batistatos
---
Pioneer ($101- $500)
– Pat Callahan

– C. Clifton Chancey

– Austgen Electric Inc.

– Marie Russo

– R. J. "Babe" Woodward Bette

– Leslie & Molly Oesterle

– Calumet Section-The Institute of Electrical & Electronics Engineers Inc.

– Lake Street School

– Crown Point Lions Club

– Schmidt Associates, Inc.

– Lester Weiss

– Tim Fealy

– Francis DuPey

– Cerestar USA Inc.

– John and Linda Sapyta

– Carolyn Devaney

– Kiwanis Club of Portage

– Golden Times

– Carroll Chevrolet

– Art Hill

– Donna Retson

– Ms. Terrie L. Farrenkopf

– Mr. Douglas C. Vawter

– Dow Agro Sciences

– Justin Whitesell

– Kevin and Catherine Ferguson

– Michael and Michele Barrett

– Shomir Sil

– Margaret Valenzuela

– Students & Staff Portage Township Middle Schools

– Construction Advancement Foundation

– Richard Olesek

– The Sammon Family

– The Austgen Family

– Challenger Learning Center Staff Karen Compton Erwin and Kristin McKone

– Gloria Gentlman

– Chris & Judy Leliaert

– Councilman Daniel Repay

– The Daake Family

– Weil-McLane

– LaHayne Funeral Home, Inc.

– The Maynard Family

– CJ Printing Ahepa

– Charities #78 of Merrillville

– Charles & Julie Costa

– Michael & Millie Kobe

– Robert & Jennifer Vavrek

– Robert & Majel Rivers

– Jan Olesek

– Cargill Cares Council - Hammond
---
Skylab ($100)
– Hammond Woodmar Lions Club
– Calumet City Lions Club
– Brenda and Gregory Kovich
– Gary and Marcia Alexander
– Lake County Surveyor George Van Til
– Dean Larson Kathleen
– Tobin-Schlesinger
– Joey and Mandy Rattazzi
– Larry Winkleman
– Griffith Savings Bank
– Mrs. Lorraine L. Durham
– Friends of Linda Myron and Linda Nidetz
– South Lake County Shrine Club
– Kiwanis Club of Highland
– The Belush Family
– Jan Rattazzi (In Memory of Bill Hart)
– Ric Frataccia
– Tom Dabertin
– Councilman Robert Markovich
– John and Karen Kovach
– The Zukanovich Family
– St. Mary School, Griffith, IN
– Sandy Stevens
– Frank J. Mrvan, North Township Trustee
– Carl J. Polk Elementary School
– Andrea Golarz Ziemba
– Jerome and Lois Banik
– Clare & Kay Gierich
– Bill & Barb Cataldi
– Ken Allen Law
– Newins Access Auto Insurance
---
Teacher Grant Fund Donors
– Citizens Savings Foundation Bank
– The John W. Anderson Foundation
– Mercantile Bank
– Ruth Cornwell
– Challenger Learning Center 5-Year Anniversary Attendees
– BP Amoco
– Morrow Family Foundation
– Arcelor Mittal
– Mortar Net
---
Special thanks to our In-Kind Donors
Accents on 45th
Adler Planetarium
Aftermath Cidery & Running Vines
Albanese Candy Factory
All Around Limousine
Almira's Bakery
AMC Movie Theater
Ameristar Casino & Hotel
Antique Vaults & Records
Asparagus Restaurant
Auto Zone
Baum's Natural Food
Beggars Pizza
Bellsom Electric
Bentley's Pet Stuff
Bnutty, LLC
Board & Brush Creative Studio
BOKA Restaurants
Bonanza Service
Brewfest
Brian Popp, Lazlo & Popp
Briar Ridge Country Club
Buddy & pals Place
BurgerHaus
Bushwackers
Byway Brewery
Café Borgia
Cafe Fresco
Cafe Racer Coffees
Cakes by Karen
Calumet Astronomy Center
Calumet Harley Davidson
Chicago Bears
Chicago Bulls
Chicago Cubs
Chicago Red Stars
Chicago White Sox
Chicago Wolves
Children's Museum of Indianapolis
Chocolate Shoppe Ice Cream Company
City of Hammond
City of Hammond Parks & Recreation
Conner Prairie
Cooper's Hawk
Cottage Care House Cleaning
Creatively You
Crossroads Family Dental
Crossroads YMCA
Crown Brewing
Crown Point Parks & Reacreation
Custom Dosing Pharmacy
DeBrand Chocolate
Dick's Sporting Goods
Disney World
Distinctive Dental Solutions
Dr. Udani
Dunes Dog Training Club
Dunhill Tuxedos
Easy Clean Car Wash
Elements Salon Spa Retreat
Emcor Hyre
Family Express
Fenn Valley Winery
Field Museum
FireKeepers Casino
Float Sixty
Fort Wayne Outfitters and Bike Depot, Captain Black's River Adventures
Fort Wayne's Children Zoo
Four Fathers Brewing
Franciscan Health and Fitness Centers
Gary SouthShore Railcats
Goodrich Quality Theaters, Inc
Growlers on Highway
Hair Ninja
Hammond Sportsplex & Community Center
Hammond Starbucks
Hammond YMCA
Happy Day Shirt & Event Company
Henry Ford Museum
Highland Parks & Recreation
Holiday World & Splashin' Safari
Home Depot
Hop River Brewing Company
Horseshoe Casino
ID Life Chicago
Illiana Power Asylum
Impact Printing Solutions, LLC
Indiana Pacers
Indiana University
Indianapolis Colts
Indianapolis Motor Speedway
Indianapolis Zoo
Indy Eleven Professional Soccer
Innsbrook Country Club
Intrigue Salon & Day Spa
Isagenix
Jaks Warehouse
John's Pizzeria
Johnson's Farm Produce
Jordan Sekulovski
Journeyman Distillery
Kendra Scott
Kris Sakelaris
Lake Area United Way
Lake County Parks Department
Lake Court House Foundation
Langels
LaPorte County Nursery
Lawton Ridge Winery
Legacy Sports
Les Cafe Pancake House
Lincoln Center
Lost Marsh Golf Course
LuLaRoe Shelly & Jodi Shahbaz
Makeup Eraser
Man Cave Barbers
Mayor Thomas McDermott Jr
McAlisters Deli
McDonalds Restaurants of Northwest Indiana
McShane Construction
Meijer
Mullally Sports & Family Medicine
Munster Starbucks
Nancy Robinson at Norwex
Navy Pier
NCAA Hall of Champions
Nick's Liquors
NICTD South Shore Line
NWI Oilmen
NWI Symphony Orchestra
NWI Times
Omni Fitness
Patti's All-American Gym
Paw Palace
Peoples Bank
Pepsi
Plaza Lanes
PRP Wine International
Purdue University
Purdue University Northwest
Region Ale
Riah Hair Salon
Rob's Meat Chop & Deli
Ron Kittle
Salon Platinum
Schererville Starbucks
Science Central
Seaglass Fine Art Photography
Serenity Salon & Spa
Shady Creek Winery
Silver Beach Carousel
Sip Coffee House 
Six Flags Great America
Sky Zone
Skydeck Chicago
Small-town Coffee Co.
Smits Farms
South Shore Arts
South Shore CVA
Stardust Bowl
Stateline Pizza
Station 21
Stella & Dott
Strack & Van Tils 
Sun King
Surefire Tattoos
Sweney Electric Co.
Tavern on Main
Texas Roadhouse
The Annex
The Community Hospital Fitness Pointe
The Field Museum
The Shedd Aquarium
Theater at the Center
Third Eye Pinecones
Tomato Bar
Towel Theater
Valparaiso University
Valpo Velvet
Vanis Salon & Day Spa
Walt Disney World
Walt's Food Centers
Whole Foods
Windmill Brewing
WJOB
YOUnique Yoga of NWI
Zandstra's Farm
Zig-E's Funland
---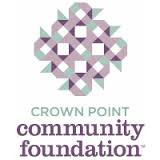 A special thanks to the Crown Point Community Foundation for their assistance with the funding the redevelopment of this website.