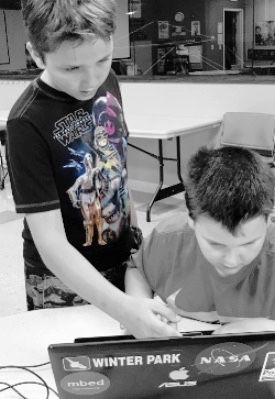 Science Spirit Award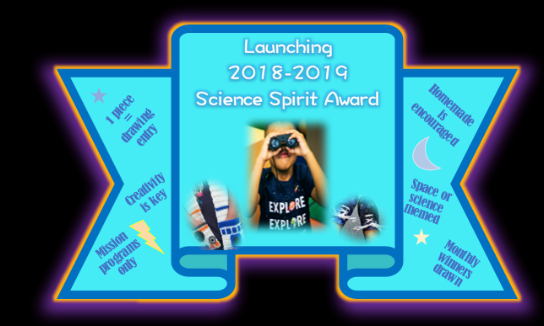 Throughout the years, we have found that the many students that come to the Challenger Learning Center of NWI are often extremely eager to show us their science and space 'themed attire' they thoughtfully picked out for their big day at our Center! Whether it be a Star Wars sweatshirt, a galaxy headband, handmade astronaut suits or a homemade Earth t-shirt, we want to see it! We appreciate our student science and fashion enthusiasts and want to continue to highlight their effort and enthusiasm. (Currently the Science Spirit Awards are specified only to our simulated space mission groups of 5th-8th graders that come for  RENDEZVOUS WITH A COMET, EXPEDITION MARS, RETURN TO THE MOON simulated mission programs). 
During the pre and/or post brief of the mission, our Flight Directors will take a moment to recognize any students wearing a piece of science or space themed gear and get them entered into our monthly Science Spirit Award drawing. Although hats are still not allowed to be worn in our building, a themed hat can and will earn an entry into the monthly drawing. 
Each month, we will randomly choose 2 students to be our Science Spirit Award winners. If your student is drawn, CLCNWI will contact you as a teacher via email to obtain a quote and photo of the winner accompanied with an official certificate (pdf) to present to the winning student. Our hope is that you and your students have fun with this both here at our Center and back at school in your classroom! After we receive the quote and photo from you the teacher, we will feature our student winners on our Science Spirit Award Winner page of our website until the next monthly winners are announced. 
*Please Note: If the photo is not possible, we ask that you send a picture of the student's favorite thing about space or a themed picture they color/draw.
We ask that teachers please remind your students about the Science Spirit Award in the weeks leading up to your visit to the Challenger Learning Center of NWI. We want all students to have the opportunity to participate. We appreciate your involvement and thank you for all that you do!
Please email jgross@clcnwi.com if you have any questions regarding the Science Spirit Award.