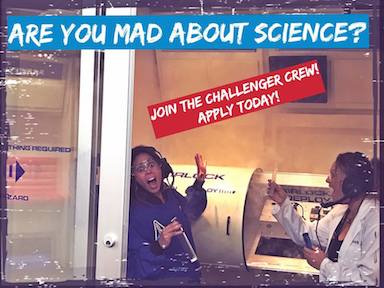 Do you have a passion for science, technology, engineering and math? Challenger Learning Center of Northwest Indiana is looking for enthusiastic individuals who are dedicated to life-long learning, science and interested in continuing to build upon our STEM education programs. 
---
Available Positions:
JOB TITLE:  FLIGHT DIRECTOR / STEM EDUCATOR
Reports To: Executive Director, Lead Flight Director
Job Type: Part-Time (non-exempt)
JOB SUMMARY:  The Flight Director/STEM Educator is responsible for conducting simulated missions and STEM programs in both formal and informal learning environments that engage individuals of all ages and abilities. Other responsibilities include instructing off-site STEM activities, summer programs and public events hosted by CLCNWI. 
PRIMARY DUTIES AND RESPONSIBILITIES:
The following duties ARE NOT intended to serve as a comprehensive list of all duties performed by all employees in this classification, only a representative summary of the primary duties and responsibilities. Incumbent(s) may not be required to perform all duties listed and may be required to perform additional, position-specific duties. 
·     Conducts simulated missions, STEM education programs, classes and other educational activities related to CLCNWI with direct input of the Lead Flight Director and Executive Director. 
·     Flies missions with students and adults with responsibility for the educational impact of the simulation. 
·     Seeks and participates in appropriate training activities that improve effectiveness, knowledge and skills related to the position.
·     Assists with facility and equipment maintenance in order to uphold an attractive, clean, and creative learning environment.
·     Conducts summer programming in the months of June through August including summer youth camps.
·     Completes and/or assists in planning activities for an assigned group of children or adults and is a resource for materials.
·     Maintains a high level of professionalism in carrying out assigned duties and responsibilities.
·     Establishes and adjusts daily work to maintain efficient work flow.
·     Accepts directives with enthusiasm and commitment.
·     Supports the CLCNWI philosophy and adheres to all work rules, policies and procedures.
·     Exhibits willingness to perform whatever duties are necessary in the development and maintenance of the Challenger Learning Center.
KNOWLEDGE, SKILLS AND ABILITIES
·     Exhibits a passion for learning and understanding Science, Technology, Engineering and Mathematics.
·     Recognizes problems, constructively identifies and articulates solutions.
·     Strong work ethics, organizational skills and ability to take initiative.
·     Ability to work with children and adults of various cultures and socio-economic backgrounds.
·     Ability to collaborate with supervisors, staff, peers and the community.
·     Can effectively adapt to change; can shift gears comfortably; is flexible and embraces change with a "can-do" attitude.
·     Demonstrates a positive attitude and shows kindness in all workplace interactions.
QUALIFICATIONS:
·     Bachelor's degree in education or science related fields preferred.
·     Experience in technology and computer assisted instruction desired.
·     Must have a valid driver's license.
·     Willingness and ability to travel to regional off-site locations, currently throughout Northwest Indiana and the Chicagoland region.
·     Ability to communicate effectively with people of all ages and abilities.
·     Strong comfort level when speaking in front of audiences.
·     Exhibits a passion for engaging children and adults in STEM learning.
PHYSICAL DEMANDS / WORK ENVIRONMENT:
Primary duties are performed in a general classroom environment; however, activities may include some educational programs in the field or off-site and may involve exposure to adverse weather conditions and hazards.
·     While performing duties of this job, the employee is regularly required to stand and talk for extended periods of time.
·     Ability to manipulate props and technical equipment, including lifting and moving show materials. 
·     Ability to lift 50 pounds or less of program materials into and out of vehicle. 
·     Regular, predictable attendance is required.
We are proud to be an equal opportunity employer – and celebrate our employees' differences, regardless of race, color, religion, sex, sexual orientation, gender identity, national origin, disability or Veteran status. Different makes us better.
TO APPLY: Submit resume and cover letter as an attachment via email (.doc or PDF files accepted) to: Interim Director, Lara Bates, bates@clcnwi.com