- Due to current events, all camp dates are subject to change. Please check back for updates-
All summer camps are stimulating, age-appropriate, and led by qualified educators to provide a safe, fun and thought-provoking experience. Summer is a great time to enhance your children's skills and abilities and give them the opportunity to explore exciting new topics. Activities are supported by NASA.
Refunds are not available at this time.
Please Note: When choosing a summer camp, schedule your child for the grade level that they will be entering or going into in the fall of 2021.
To ensure the safety of our students and parents, we have enacted new health and safety practices:
1. All camps will be a limited number of participants and 2 STEM educators
2. Masks and hand sanitizer for staff and participants will be provided throughout the Center for all guests to use  
3. All students will be separated by minimum of 6ft, with group projects scaled down
4. All counter and table top surfaces will regularly be disinfected, and all materials will be cleaned thoroughly before and after use
For more information, visit Indiana's Back on Track website for more guidelines.
***PRIOR TO YOUR CHILD PARTICIPATING IN SUMMER CAMP, THESE FORMS MUST BE FILLED OUT, SIGNED, AND TURNED IN DAY OF THE CAMP. DOWNLOAD FORMS HERE. THANK YOU!***
---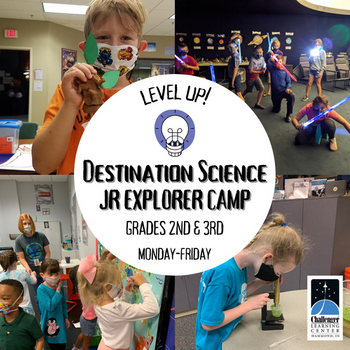 Junior Challenger Explorer Summer Camp (Grades 2 & 3)
Campers will explore the science behind some of pop culture's biggest icons, classic chemistry experiments, physical fitness, space, the environment, and so much more!  All activities are designed and age-appropriate for 2nd and 3rd graders. ** Campers may watch scenes from science fiction productions that include battle scenes or intense moments.  
JUNE 2021
June 21st through June 25th
9 AM to 2 PM each day
$300 for full week
*3 SPOTS REMAINING*
JULY 2021
July 19th through July 23th
9 AM TO 2 PM each day
$300 for full week
*Please Note: Due to current events, summer camps may be canceled, postponed or altered. Please check back frequently for updates.  We will adjust accordingly to the most updated state and local health & safety guidelines.
Register for 1 FULL WEEK or for both JUNE & JULY sessions here
---