2023 SUMMER CAMP REGISTRATION
***Please individually register EACH CHILD***
PRIOR TO YOUR CHILD PARTICIPATING IN SUMMER CAMP, THESE FORMS MUST BE FILLED OUT, SIGNED, AND TURNED IN DAY OF THE CAMP. DOWNLOAD FORMS HERE. PLEASE READ FORMS CAREFULLY. THANK YOU!

 
Summer Camp 2023 Registration
Both Junior and Senior camps are completely sold out, and the June session of AstroTots is sold out as well. A waitlist has been created for all camps, so please call (219) 989-3250 to get this year's summer camp waitlist!

---
---
SUMMER CAMP SCHOLARSHIP FUNDING UPDATE
To take advantage of scholarship funding, REGISTER YOUR YOUNG SCIENTIST ASAP, as we will be using funds until they run out!
*There will be NO REFUNDS if you chose to register before Scholarship Information was posted February 27th, 2023*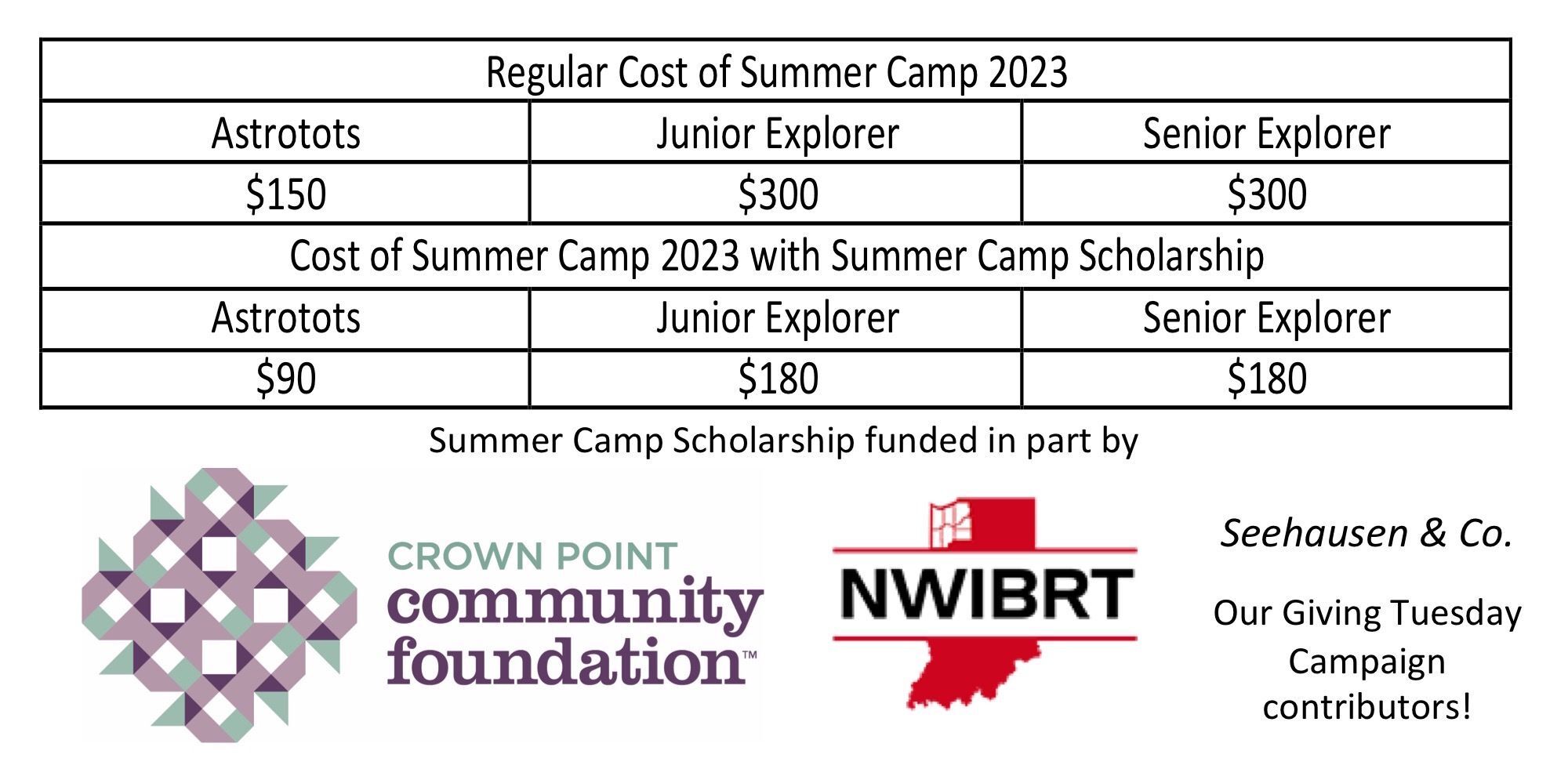 Funding provided by the generosity of our educational partners will help to off-set the costs of summer camp tuition. Special THANK YOU to Crown Point Community Foundation, Northwest Indiana Business RoundTable, Seehausen & Co. P.C., Challenger's Board of Directors, and Giving Tuesday Campaign contributors! Summer Camp Scholarships are open to ANY student in Lake County.
---
CANCELLATIONS AND REFUNDS
*Week-long day camps paid-in-full will include a $25 non-refundable service fee.
*Cancellation/Refund Request - 30 days or more prior to camp 
Written notification (email or letter) must be made no less than 30 days prior to the camp start date to receive a refund, excluding the non-refundable service fee. Due to the nature of our business, 30 days written notice is essential for us to refill the camper's spot. 
*Cancellation/Refund Request - less than 30 days prior to camp
 No refunds will be offered for requests submitted less than 30 days prior to the camp start date, for any reason, including a positive Covid-19 test.
*No refunds will be given if:
A camper leaves camp early due to missing home or parent request.

A camper is sent home for behavioral reasons.

A camper does not show up for camp.
*No Shows
 Please make every effort to arrive on time. Challenger Learning Center of NWI will verify absences by phoning the family of absent campers. For questions, please call 219-989-3250
*CANCELLATIONS 
If camp is cancelled by Challenger Learning Center for any other reason; participants will receive a full refund.