Join us for a one day summer camp special experience at our Pop Up Camp! 
Next Upcoming Summer Camp:
Aviary Adventures - June 20th, 2023 SOLD OUT
Young wildlife enthusiasts will immerse themselves in the beautiful world of birds in this one-day camp! As they take an adventure through the aviary world, each student will be able to make a bird feeder and bird house to take home with them! *Be aware: we will be using peanut butter for a science experiment in this camp!*
Time: 1:30 pm - 3:30 pm
Grades: Kindergarten - 5th
$15 per participant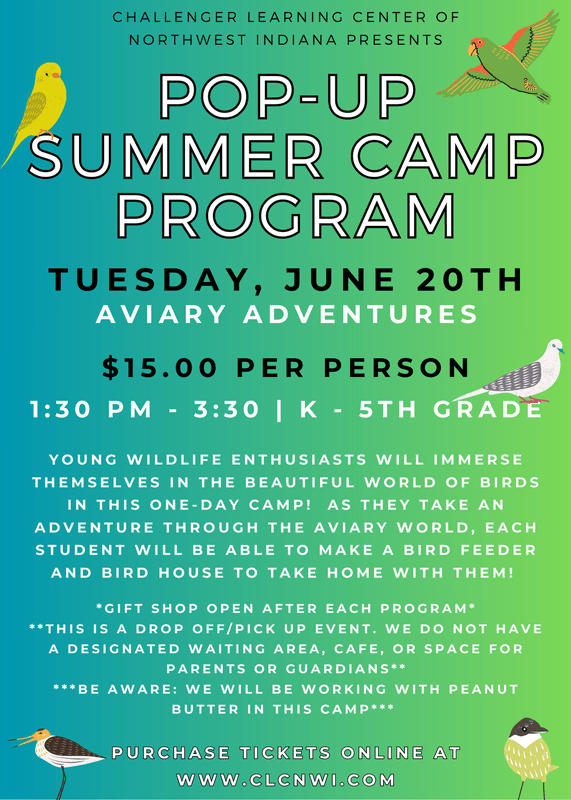 ---
Planetarium Premier - July 5th, 2023
Join us for an exclusive showing of our two brand new planetarium shows, Destination Mars and Moons: Worlds of Mystery!
A trip through space and time, as well as a guide to the summer night sky, is included in each 1-hour planetarium showtime.
Showtimes:
Destination Mars: The New Frontier - 11 am & 2 pm (Designed for ages 9 and up)
Moons: Worlds of Mystery - 12:30 pm & 3:30 pm (Designed for ages 6 and up)
---
Stellar Science - July 10th, 2023
Young engineers and astronomers will become stellar scientists for the day while learning about the concepts of rocketry and constellations that make up our starry night sky!
Sessions:
Rocket Stars (3rd - 6th Grade) - 10 am - 12 pm SOLD OUT
Constellation Cadets (Kindergarten - 2nd Grade) - 1 pm - 3 pm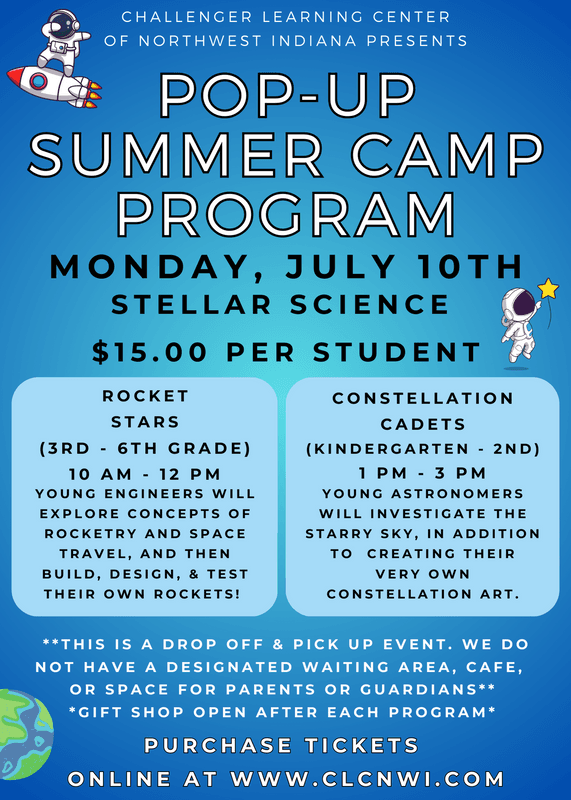 ---
Living in Space - July 11th, 2023
Astronauts-in-training will explore how living in space affects the human body, and examine the methods astronauts use to protect themselves from the dangers of space. *Note: Students will get to test real astronaut food (Apples or Bananas) during this lab session*
Sessions:
3rd Grade - 5th Grade  >  10 am - 12 pm
6th Grade - 8th Grade  >  1 pm - 3 pm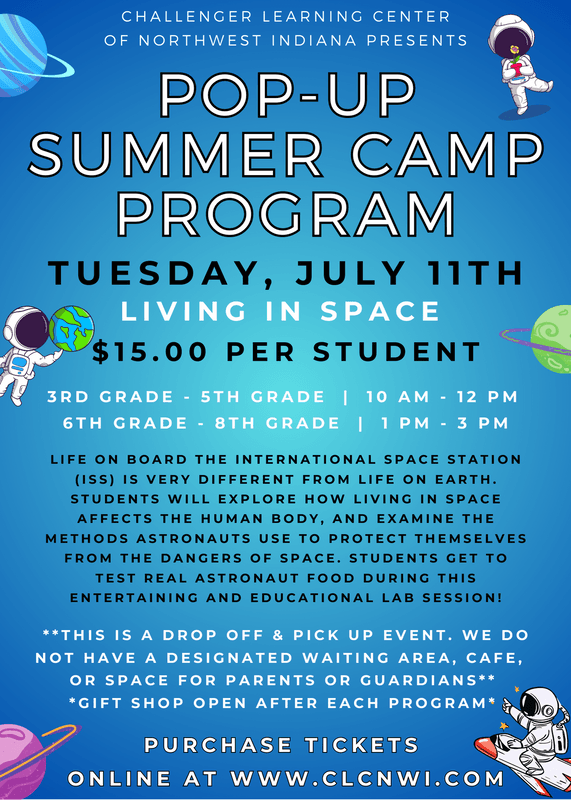 ---
Moonbase Adventures - July 14th, 2023
In both programs, children will investigate our only natural satellite and closest celestial neighbor - the Moon!
In Moonbase Explorers (K - 2nd), young scientists will explore the concept of a lunar space base in this exciting, hands-on STEM experience!  Mini Moonbase scientists will enjoy an adventure to the Moon and go on a journey through space and time in our planetarium.
Sessions:
Moonbase Explorers (Kindergarten - 2nd grade) - 10 am - 12 pm **This is a DROP OFF/PICK UP EVENT**
Mini Moonbase (Preschool) - 1 pm - 2 pm **Each participant requires (1) ADULT CHAPERONE, which is included in admission**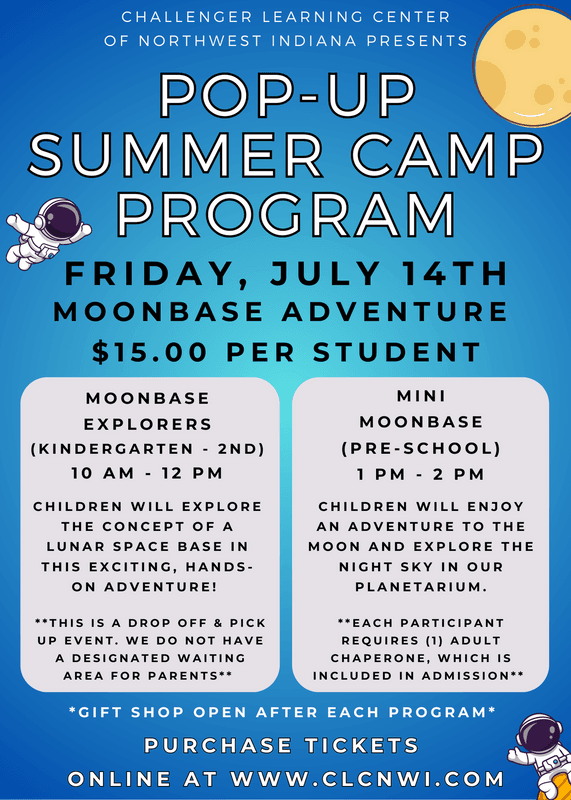 ---
Please Note: When choosing a summer camp, schedule your child for the grade level that they will be entering or going into in the fall of 2023.
Important information:
One day camps are only 1 or 2 hours long, so there will not be a break for snacks or lunch. Campers are permitted to bring water bottles, but not full lunchboxes into camp. Be sure to remember to pack essentials according to your child's needs, as medicines, sun screen, sun glasses, or umbrellas are not provided on site by our Center.

Some camps may spend time outdoors (weather depending), so campers will be be exposed to outdoors elements. Please make sure your young scientist dresses accordingly (i.e. coats if chilly, tennis shoes, comfortable clothes, etc...). Sunscreen will not be available on site, so please keep skin care in mind when sending students.

This is a DROP OFF & PICK UP event UNLESS OTHERWISE STATED. Drop off occurs no earlier than 10 minutes before camp, and pick up is promptly at the end time listed above. Students will be dropped off and picked up at the Planetarium entrance door.  Adults can remain in their vehicles lined up outside of Challenger or come up to the door, and staff will safely escort campers directly to their vehicles or guardians. CHALLENGER DOES NOT HAVE A DESIGNATED WAITING AREA, CAFE, OR SPACE FOR PARENTS OR GUARDIANS. PARENTS OR GUARDIANS WILL NOT BE PERMITTED INSIDE THE BUILDING DURING PROGRAMMING UNLESS OTHERWISE STATED ON EVENT MATERIALS.

The use of cell phones for anything other than to contact parents or for emergency purposes will not be tolerated, so please advise your students to keep their phones put away throughout the entirety of camp, or to always ask an adult in advance if they can use their cell phone.

Refunds will not be able to be processed for any no shows or cancellations.
*The Galaxy Gift Shop will be open after the conclusion of each camp if you would like to shop with your young scientist for a souvenir!*