-All summer camp dates could be subject to change. Please check back frequently for updates-
All summer camps are stimulating, age-appropriate, and led by licensed educators to provide a safe, fun and thought-provoking experience. Summer is a great time to enhance your children's skills and abilities and give them the opportunity to explore exciting new topics. Activities are supported by NASA.
Please Note: When choosing a summer camp, schedule your child for the grade level that they will be entering or going into in the fall of 2022.
***PRIOR TO YOUR CHILD PARTICIPATING IN SUMMER CAMP, THESE FORMS MUST BE FILLED OUT, SIGNED, AND TURNED IN DAY OF THE CAMP. DOWNLOAD FORMS HERE. THANK YOU!***
---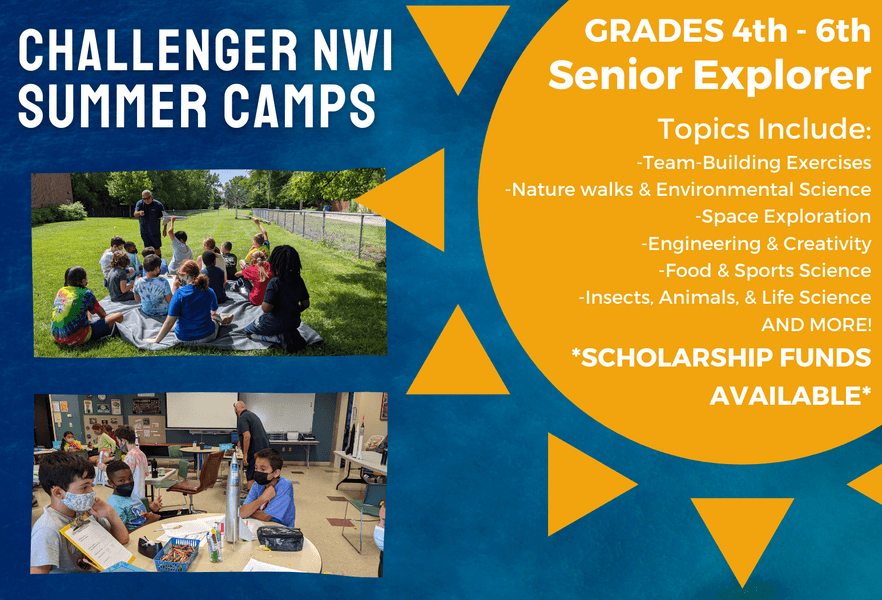 Senior Challenger Explorer Summer Camp (4 - 6)
Campers will explore the Earth, Space & Beyond with classic chemistry experiments, team building activities, physical fitness, food science, space exploration, environmental investigations, and so much more!  All activities are designed and age-appropriate for 4th, 5th, and 6th graders. ** Campers may watch scenes from science fiction productions that include battle scenes or intense moments.  Students will be going OUTDOORS and doing activities OUTSIDE.**
JUNE 2022
June 20th through June 24th
9 AM to 2 PM each day
$300 for FULL WEEK - SOLD OUT
JULY 2022
July 25th through July 29th
9 AM to 2 PM each day
$300 for FULL WEEK - SOLD OUT
SOLD OUT
---
Funding provided by the generosity of our educational partners will help to off-set the costs of summer camp tuition. Special THANK YOU to the Legacy Foundation, NIPSCO, Challenger's Board of Directors, and Giving Tuesday Campaign contributors! Summer Camp Scholarships are open to ANY student in Lake County.