- All camp dates could be subject to change. Please check back for updates-
All summer camps are stimulating, age-appropriate, and led by qualified educators to provide a safe, fun and thought-provoking experience. Summer is a great time to enhance your children's skills and abilities and give them the opportunity to explore exciting new topics. Activities are supported by NASA.
Please Note: When choosing a summer camp, schedule your child for the grade level that they will be entering or going into in the fall of 2022.
***PRIOR TO YOUR CHILD PARTICIPATING IN SUMMER CAMP, THESE FORMS MUST BE FILLED OUT, SIGNED, AND TURNED IN DAY OF THE CAMP. DOWNLOAD FORMS HERE. THANK YOU!***
---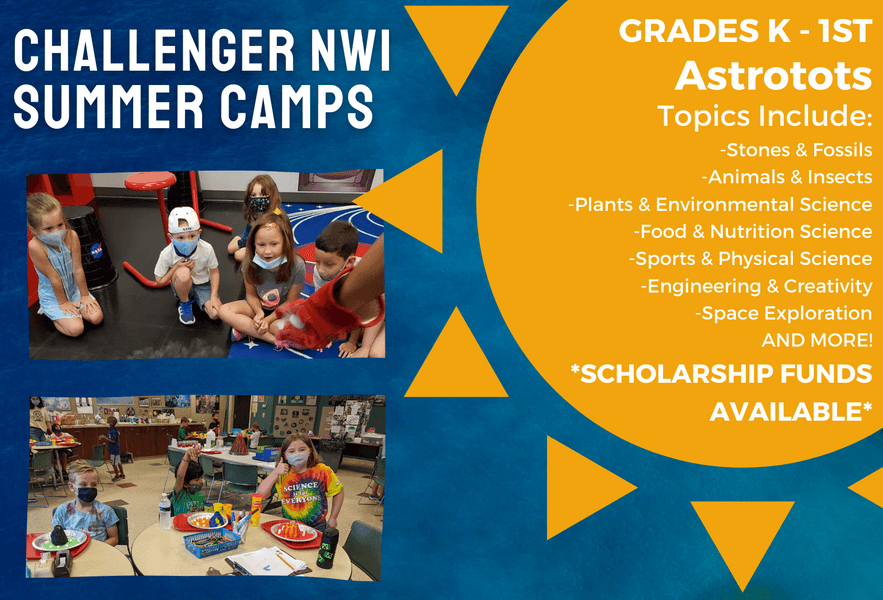 Astrotot Challenger Explorer Summer Camp
This camp gives incoming Kindergarten and/or first grade students a chance to learn about science basics while having fun. These Astro-Tots will explore topics like fossils, animals, insects, plants, food science, engineering, & astronomy all in a quest to learn more about the amazing world around them! **Campers will be going OUTDOORS and doing activities OUTSIDE during camp.**
June 2022
June 13th through June 17th
9 AM to 12 PM each day
$150 for FULL WEEK - SOLD OUT
July 2022
July 18th through July 22nd.
9 AM to 12 PM each day
$150 for FULL WEEK - SOLD OUT
SOLD OUT
---
Funding provided by the generosity of our educational partners will help to off-set the costs of summer camp tuition. Special THANK YOU to the Legacy Foundation, NIPSCO, Challenger's Board of Directors, and Giving Tuesday Campaign contributors! Summer Camp Scholarships are open to ANY student in Lake County.