- All camp dates could be subject to change. Please check back for updates-
All summer camps are stimulating, age-appropriate, and led by qualified educators to provide a safe, fun and thought-provoking experience. Summer is a great time to enhance your children's skills and abilities and give them the opportunity to explore exciting new topics. Activities are supported by NASA.
Please Note: When choosing a summer camp, schedule your child for the grade level that they will be entering or going into in the fall of 2023.
***PRIOR TO YOUR CHILD PARTICIPATING IN SUMMER CAMP, THESE FORMS MUST BE FILLED OUT, SIGNED, AND TURNED IN DAY OF THE CAMP. DOWNLOAD FORMS HERE. THANK YOU!***
---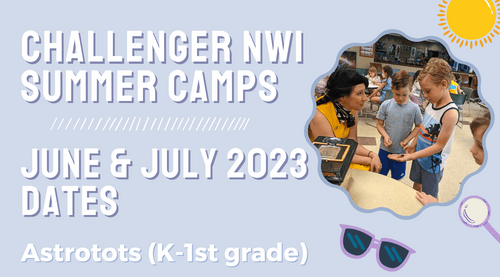 Astrotot Challenger Explorer Summer Camp
This camp gives incoming Kindergarten and/or first grade students a chance to learn about science basics while having fun. These Astro-Tots will explore topics like fossils, animals, insects, plants, food science, engineering, & astronomy all in a quest to learn more about the amazing world around them! **Campers will be going OUTDOORS and doing activities OUTSIDE during camp.**
June 2023
June 19th through June 23rd
9 AM to 12 PM each day
$150 for FULL WEEK
July 2023
July 24th through July 28th
9 AM to 12 PM each day
$150 for FULL WEEK 
---
SCHOLARSHIP FUNDING INFORMATION WILL BECOME AVAILABLE THIS MARCH.
To take advantage of scholarship funding, please call (219) 989-3250 for more information before registration AFTER MARCH 15TH.
*There will be NO REFUNDS if you choose to register before Scholarship Information is posted this spring*
Funding provided by the generosity of our educational partners will help to off-set the costs of summer camp tuition. Special THANK YOU to Northwest Indiana Business RoundTable, Seehausen & Co. P.C., Challenger's Board of Directors, and Giving Tuesday Campaign contributors!