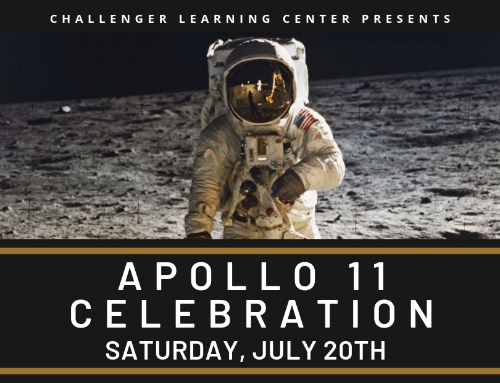 Join us for a day of family science fun to celebrate the 50th Anniversary of the Apollo 11 Moon Landing!
Moon Explorers Adventure
10 am to 12 pm
4 years old - 9 years old
Astronauts-in-training will explore the Moon through a series of games and interactive experiments.
$10 per child
Moon Explorers Parent Pass* SOLD OUT
Accompany child in Moon Explorers Adventure only, Planetarium, and STEM activity lab
$5 per parent
*AM Parent Passes SOLD OUT.  Due to limited space, parents without a Parent Pass will not be permitted into the Moon Explorers room. Parents may wait in lab area until first half of Moon Explorer program ends.
Moon Mission
12:30 pm to 2:30 pm
Ages 10+
Astronauts of all ages will embark on a Moon Mission like never before! Put your teamwork skills to the test on this Mission to the Moon you won't want to miss!
$25 per person
Planetarium show and lunar activity lab included in each ticket purchase. 
**Anyone under 18 years old must be accompanied by a parent or guardian on premises
***SPACE IS LIMITED***
***REGISTRATION IS REQUIRED***