SIMULATED MISSIONS
A Challenger Learning Center mission is more than a field trip or a computer game. Our mission simulations put students into learning environments based on the practices NASA uses to prepare astronauts. It's as real as it gets without needing a spacesuit.
While students become astronauts and engineers at Challenger Learning Centers, they are solving real-world problems as they share the thrill of discovery on missions through the Solar System.

HOW A CHALLENGER LEARNING CENTER MISSION SIMULATION WORKS:
Prior to the visit, educators receive curriculum to help students understand the theme and topic of their mission and to work on communication, teamwork and problem solving skills. No Teacher Training needed!

After arriving at the Challenger Learning Center, students are partnered up and assigned to one of eight teams: Communications, Data, Isolation, Life Support, Medical, Navigation, Probe, and Remote.

One student on each team is assigned to Mission Control, while the other team members are transported to the space station (at mission midpoint, the partners exchange places so every student can experience both learning environments).

During the mission, students must accomplish specific tasks in order for the mission to be a success. Astronauts on board the space station build space probes, monitor life support functions, conduct experiments on items taken from the surfaces of Mars or the Moon, and plot navigation courses for the spacecraft. Engineers at Mission Control support these endeavors by answering the astronauts' questions and providing necessary research.

Following the mission at the Challenger Learning Center, educators have the option of using specific programs designed to help extend the Learning Center mission once they return to the classroom.
Students become engineers, scientists and Mission Control specialists working together as a crew to Rendezvous with a Comet, Voyage to Mars or Return to the Moon. In the simulators, students test their decision-making skills, solve problems and communicate by alternative means during this innovative, space-themed science and math hands-on experience.
Length: 2 hours
Class Size: Maximum 34 Students
Price: $600 Per Class
*If you are looking for funding and/or need a letter to present to your school district or administrator to justify a field trip to Challenger Learning Center for a Simulated Space Mission, click here for a sample letter that you can edit to meet your needs: 
---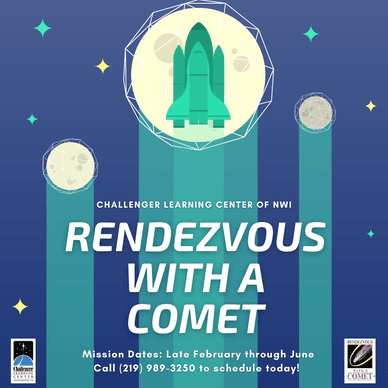 RENDEZVOUS WITH A COMET
In the not-to-distant future, a team of scientists and engineers are serving as Astronauts and Mission Controllers on a daring exploration of comets! Their goal is to successfully plot a course to rendezvous with a comet and launch a probe to collect scientific data. What may seem to be a routine exploration, is sprinkled with lots of surprises and emergencies that will give students first-hand insight into teamwork and problem-solving.
This mission is flown from late February – June.
---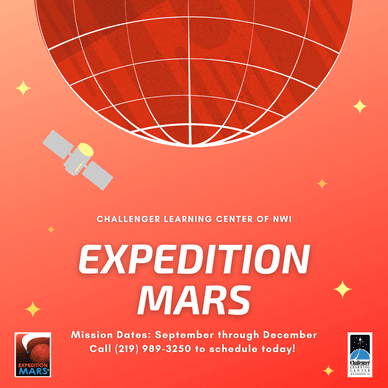 EXPEDITION MARS
New! Updated Summer 2019 - The year is 2076 and this crew is tasked with searching for water and life on the Martian surface! Carrying parts to build a ROV for hydrological exploration, the Mars Transport Vehicle (MTV) also carries unmanned drone aircraft to assist in surveying the Martian landscape. However, when crew members discover a threat to their MTV base, they must act quickly to save their crew and their station!
This mission is flown from September – December.
---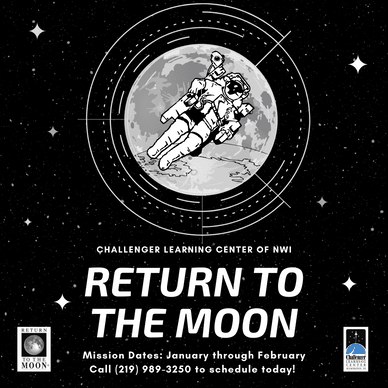 RETURN TO THE MOON
The year is 2022, and for the first time since 1972, a crew of astronauts are finally returning to the Moon! This time, they plan to stay. Their mission is to establish a permanent base on the Moon to observe and explore, as well as test the feasibility of off-Earth settlements. Navigating their way into lunar orbit, students must construct and launch a probe and analyze a variety of data gathered from the lunar surface to select a site establishing the permanent Moon Base.
This mission is flown from January – February.
---
Have questions or curious about what you'll need to know for your upcoming Challenger mission? Call (219) 989-3250 or email hunter@clcnwi.com to speak with our Lead STEM Educator so she can walk you through the process over the phone or Zoom!