SCIENCE LABS (Grades 5-8)
Extend your half-day mission into a full-day, immersive experience!
 We offer two different content options that complement mission scenarios:
LIVING IN SPACE

ROCKETRY 101
Each lab is standards-based in science content, but integrates literacy, math and social studies concepts as well as 21st Century Learning Skills. Students participate in team building, problem-solving and critical thinking activities. Each Science Lab activity aligns with the Indiana Academic Learning Standards and Illinois Learning Benchmarks standards for its grade levels.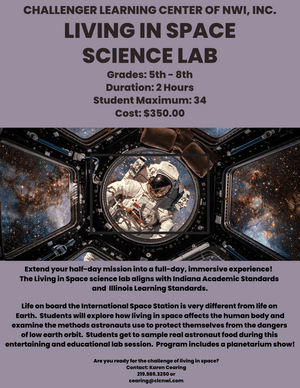 LIVING IN SPACE
Life on board the International Space Station (ISS) is very different from life on Earth.  Students will explore how living in space affects the human body and examine the methods astronauts use to protect themselves from the dangers of Low Earth Orbit.  Students get to test real astronaut food during this entertaining and educational lab session.
Length: 2 hours
Class Size: Maximum 34 students
Price: $350 per class 
---
---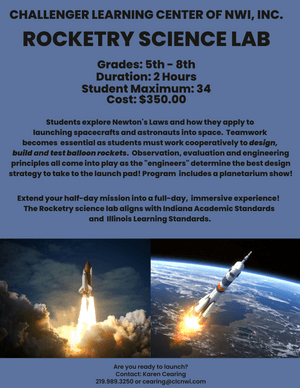 ROCKETRY 101
In this session, students explore Newton's Laws and how they apply to launching spacecraft and astronauts into space. Teamwork becomes essential as students must work cooperatively to design, build and test balloon rockets.  Observation, evaluation and engineering principles all come into play as these "engineers" determine the best design strategy to take to the Launch Pad!
Length: 2 hours
Class Size: Maximum 34 students
Price: $350 per class