"Far Out" Explorer Clubs!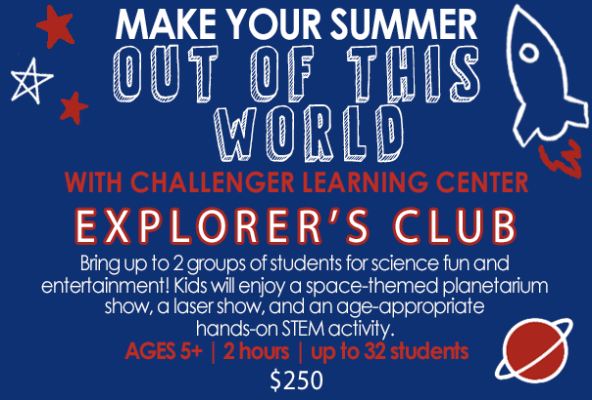 Group outings, after-school clubs and summer adventure camps are invited to try out our amazing group activities at the Challenger Learning Center.  Bring up to 2 groups of students for science fun and entertainment! Children of all ages will enjoy space-themed, educational planetarium show as well as an entertaining laser show. Kids then get to try their hand at some age-appropriate, hands-on science activities. This package works well with special needs and multigenerational groups too.  Programs can be tailored for your group. 
LENGTH: 2 hours
Group Size: up to 32 students/8 chaperones (maximum)
PRICE: $250 per group 
Ages 5+
*Please Note: Students should be grouped by age level if possible: K-3, 4-6
Please call to inquire or to schedule your Explorers Club today!