Challenger Learning Center Professional Development Sessions
The key to a successful student program begins with teacher training. Professional Development sessions are offered for all programs and will provide educators with resources and insight into Challenger programs and content. Take a look below to see if there's a session for you. Feel free to call us with any questions (219) 989-3250.
---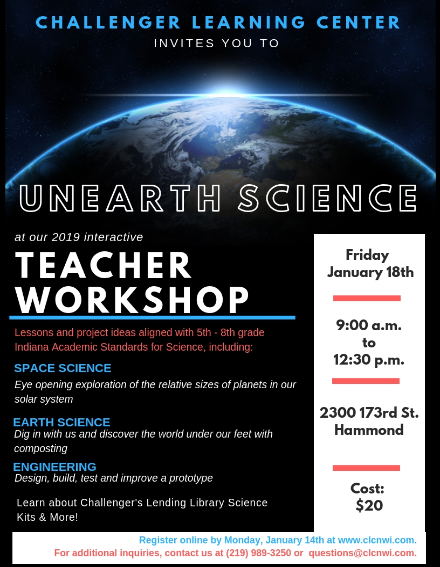 NEW! Unearth Science Teacher Workshop
Friday, January 18, 2019 (Seats Available)
9:00 am - 12:30 pm
$20.00/per teacher
Lesson and Project Ideas aligned with the 5th-8th grade Indiana Academic Standards for Science, including:

Space 

Science:

Eye-opening exploration of the relative size of planets in our solar system
Earth 

Science:

Dig in with us and discover the world under our feet... with composting!

Engineering:

Design, build, test, and improve a prototype!

STEM in the Sphere: Learn how to share the wonders of the night sky without ever climbing on a bus! (*Portable Planetarium resource that Challenger can bring to your school​​​​​​)
Giant Mars Map: See the FREE resource we have available for you to explore Mars in your classroom
Registration Deadline: Monday, January 14th 
This form stopped accepting submissions on January 16, 2019 11:30 pm CST.