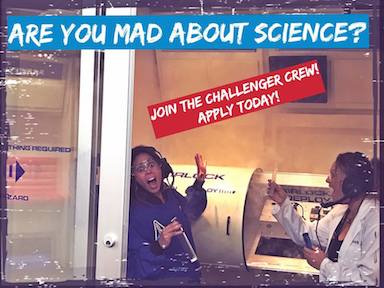 Do you have a passion for science, technology, engineering and math? Challenger Learning Center of Northwest Indiana is looking for enthusiastic individuals who are dedicated to life-long learning, science and interested in continuing to build upon our STEM education programs. 
---
CURRENT OPPORTUNITIES
Flight Director/STEM Educator: Posted on July 8, 2019
The Challenger Learning Center of Northwest Indiana is seeking an enthusiastic, and highly-energetic instructor that exhibits a true passion for learning in Science, Technology, Engineering and Mathematics. Incumbent must possess the ability to adapt to change with a can-do attitude while working with children of varying ages and abilities. The Flight Director/STEM Educator is responsible for conducting simulated missions and STEM programs in both formal and informal learning environments that engage individuals of all ages and abilities. Other responsibilities include instructing off-site STEM activities, summer programs and public events hosted by CLCNWI. This position will begin mid/late September 2019.
For a complete job description, click here. 
TO APPLY: Please submit a cover letter and resume (attach files - .pdf .doc) to Program Manager, Amanda Krupinski, via email at amanda@clcnwi.com.