Rebecca Manis, Executive Director
Rebecca graduated from Indiana University with a degree in Elementary Education. She taught middle school science and language arts, until she joined the Challenger Learning Center as its Lead Flight Director when the center opened in February of 1999. Working alongside the center's founding director, Lisa Austgen, she developed a curriculum for the mission simulations and worked to create a unique experience for all who visited the center. While working on her Masters in Education through Purdue University Calumet, Rebecca became a member of the Network Training Consultant team for Challenger's national headquarters and traveled throughout the United States assisting in the opening of centers and training new Flight Directors. After a brief hiatus at Jane Ball Elementary School in Cedar Lake, she returned to the learning center in 2011 as the Executive Director, where she is pleased to be working with a dedicated staff and Board of Directors who are all focused on helping teachers inspire and engage students in the sciences, engineering fields and beyond.
---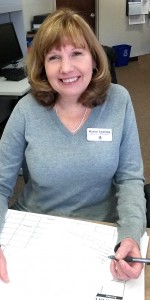 Karen Cearing, Business Manager
Karen was born in South Chicago Heights, Illinois, but, has lived in Northwest Indiana since the 6th grade. Karen's family currently resides in Dyer, Indiana. Karen graduated from Lake Central High school in St. John, Indiana and also attended Purdue University Northwest, taking accounting classes to further her career.  The majority of her professional career has been spent working for local CPA firms where she specialized in non-for-profit and small business accounting. After spending the last two years working for the Crossroads Regional Chamber of Commerce in Merrillville, Indiana, as their Marketing Director, Karen was happy to accept the Business Manager position at Challenger Learning Center. Karen and her husband are very proud of their two beautiful daughters, one who is a teacher and one who attends Indiana University. 
---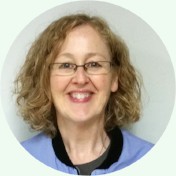 Ann Vassar, Co-Lead Flight Director: Formal Programs
Commander Ann graduated from Purdue University Northwest with a degree in Elementary Education. She has always had a great interest in science and strived to share that interest with her students in the classroom. She is proud to be a part of the team at the Challenger Learning Center of Northwest Indiana and loves seeing the excitement that the missions create with students. When she is not launching rockets or flying a mission, Commander Ann enjoys spending time with her husband, children, family and friends. She also enjoys walking, reading, and relaxing with a good movie.
---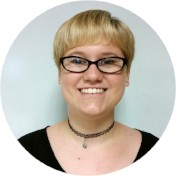 Emma Rose, Office Assistant
Emma is an honors student at Purdue University Northwest. She has lived in northwest Indiana for her entire life and graduated form Lake Central High School in 2014. She is majoring in Human Development and Family Studies, with a specialization in Child and Family Services, and hopes to one day become a counselor. Emma began working as an intern at the Challenger Learning Center in January 2015, and has assisted with birthday parties as well as summer camps. She is extremely happy to be working at the Challenger Learning Center!
---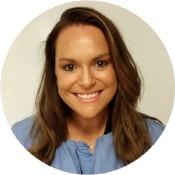 Janean Gross, Flight Director and Curriculum Coordinator
Janean graduated from Indiana University Northwest in 2012 with a degree in Elementary & Special Education. She worked with children on the autism spectrum from  2009-2016 conducting 1:1 ABA therapy. Her passion is educating children and making a positive impact on their day. She was intrigued by the Challenger Center because of the theatrical and interactive methods of engaging students in applying what they are learning in the classroom to a job-like experience. She is also fascinated by how excited and proud children of all abilities become when working hands-on in an atmosphere where they are learning but also having a ton of fun! Janean will be focusing on upgrading and refreshing our curriculum resources for teachers, as well as being a flight director and working directly with the children. She is thrilled to join our team and sees a star bright future with us at the Challenger Center. 
---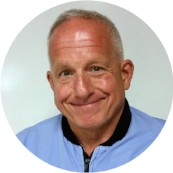 Greg Karas, Flight Director
Commander Greg earned his Bachelors from Valparaiso University in 1976 and his Masters from Indiana University in 1986. For 37 years he served as a fourth-grade teacher in Valparaiso. Through coaching, summer school, Student Council and the Kiwanis K-Kids program, he was fortunate to work with students at every grade level (K-12) during his teaching career. He has had a lifelong interest in space exploration and can vividly remember watching the televised flights of the Mercury astronauts in the basement of Elliott school in Munster when he was a student there. In the 1980s he applied for NASA's Teacher in Space program and was a semi finalist for the state of Indiana. Greg is the past president and charter member of the Sunrise Kiwanis Club of Valparaiso. He has served on the board of the United Way agency Family House for 25 years. (Family House helps children who have been victims of abuse and neglect.)
Greg's wife Liz is a Registered Nurse at Porter Regional Hospital. They have two married children named Nick and Natalie and two beautiful granddaughters named Olivia and Miriam, plus amazing twin grandsons, Benny and Lando. Greg loves to read, write, hike at the Indiana Dunes, and take long bike rides on the trails in Porter County. Commander Greg is proud and happy to guide kids at this wonderful STEM institution, because he knows it provides them with a unique and powerful learning experience.
---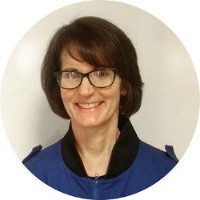 Jeanie Shanks, Flight Director
Commander Jeanie graduated from Purdue University with a Bachelor's degree in Chemical Engineering. After working 11 years in several engineering and laboratory positions at GE Plastics, Jeanie left engineering to raise two very science-minded boys. Through home science projects, volunteering at school, 4H, Cub Scouts and Science Olympiad, Jeanie realized that she loved doing hands-on work with children while inspiring them to get excited about science and engineering. She specifically remembers accompanying her sons' classes to the Challenger Center and being awed by the dynamic learning and hands-on activities here. She started volunteering at Challenger in 2011, and was thrilled to start the job of part-time Flight Director in 2014!
When Jeanie is not at the Challenger Center, she works part-time as an analyst in an environmental testing laboratory. Outside of work she enjoys traveling to visit family, hiking, skiing, anything to do with space travel and astronomy, home decorating projects and reading.      
---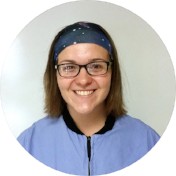 Sarah Janiga, Flight Director
Sarah first visited the Challenger Learning Center of NWI as an astronaut-in-training for the Indiana Space Adventure Camp. She then returned with her class from Kenwood Elementary School. Those experiences taught her to work hard and to dream big; Sarah's dream… was to become a flight director. Her love for exploration allowed her to soar to new heights in Muncie, Indiana where she studied communications and marketing at Ball State University. During this time, she simultaneously completed the Disney College Program at Disney World in Florida. After graduating with her Bachelors in 2013, Sarah moved back to Florida to gain additional experience. Her most recent role was with the College and International Education Team at the Disney Learning Center. Upon completion of this internship, Sarah returned to Chicagoland to be closer to her family.
In 2015 and beyond, she is thrilled to join the unique Challenger crew in her dream job as a Flight Director. Commander Sarah is especially enthusiastic about the newest mission, Earth Odyssey, because of her firm belief in environmental sustainability and wildlife conservation. In her free time, Sarah enjoys playing with her pets, traveling with her family and volunteering with Make-A-Wish Illinois.
---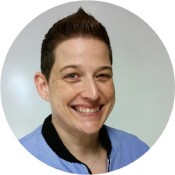 Cherri Moore, Flight Director
Commander Cherri was born in Hammond and grew up in Highland, Indiana, where she still resides today. She graduated from Highland High School and went on to earn an associate degree in Early Childhood Development and a Bachelor's degree in Elementary Education from Purdue University Northwest. Cherri spent her first year teaching second grade in the high deserts of Magdalena, New Mexico on the Alamo-Navajo Indian Reservation. Wanting to be closer to family, Cherri returned to Highland, where she then spent 12 years teaching fourth grade in Sauk Village, Illinois. During that time, Cherri utilized technology to help bring learning to life in her classroom.
Cherri is excited to be a flight director at Challenger Learning Center of NWI. Being able to participate in missions with students and sharing in the students' excitement while they are engaged in STEM activities brings her much joy. While observing students working on these hands-on activities, it is her hope that students will want to pursue STEM careers. When Cherri is not at the Challenger Learning Center, she enjoys teaching behind-the-wheel driver education. She also enjoys traveling to new places and exploring them with her husband.
---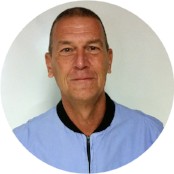 Jeff Kinkaid, Flight Director
Commander Jeff graduated from Indiana State University with a degree in business education. He continued on to earn a Masters degree from Indiana University Northwest. His career involved teaching a variety of courses at the high school level including accounting, business law, introduction to careers, marketing, and personal finance. Commander Jeff appreciates the fact that skills such as teamwork, communication, and problem solving are important in business, and he strives to incorporate these into each of his missions. Jeff enjoys working with young people and encourages them to continue their exploration of STEM courses as they continue their education. Commander Jeff is very excited to be part of the Challenger Learning Center team! He remembers the Mercury space flights and was a teenager during the Apollo missions. Consequently, he is fond of the Mission to the Moon simulation.
Retiring from education after 34 years of classroom experience, Commander Jeff enjoys spending his free time traveling with his wife Kim and visiting his daughter Lindsay and her family in Wisconsin.