"Best Field Trip Ever!"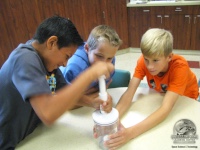 Field trips are wonderful opportunities for students and their teachers to take learning out of the traditional classroom setting and move it into new, exciting and inspirational locations.  For some students, a field trip with their class will take them to a place that they might never visit during outside of school.  For many students, it's an opportunity to see that learning isn't just about being in a classroom – learning can take place any where and at any time.
A field trip at the Challenger Learning Center takes the traditional field trip to the next level.  It's not about walking through an exhibit – looking and reading static information. It's about becoming part of the experience – being assigned to a job, working as a team, communicating, problem solving and applying math, language, science and technology skills to completing a high energy and exciting task.
The Challenger Learning Center of Northwest Indiana provides programs for preschool students to adults.  All of our programs integrate the excitement of space exploration with the fun of educational simulations. Our School programs are all standards based and developed by subject matter experts and teachers who understand the importance of promoting 21st Century Learning Skills and preparing an inspired and engaged group of future leaders, workers and thinkers.
Take a look at our programs to see what will work for you and your students.  Wouldn't it be great to hear your students say what we've heard countless students say?  "This was the best field trip ever!"
Programs can be reserved throughout the school year by calling (219)989-3250.
Booking dates for the 2018 / 2019 school year will take place in MAY. Please check back for further details.
---
All Programs